Susan Gould 1805-1879
Susan Gould was born in 1805 in Cheapside, at the London home of her parents Thomas Gould 1752-1829 and his wife née Frances Hunt 1766-1836, and was baptised on 28 April 1805 at St Pancras Old Church in London.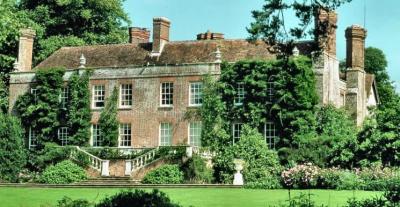 Pashley House
On 17 October 1838 she was married to Nathan Wetherell 1808-1887 at Burwash in Sussex (1).

He was born at Westbury-on-Severn in Gloucestershire, son of the Reverend Richard Wetherell 1773-1859 and his wife Caroline May 1778-1833, and grandson of Nathan Wetherell 1738-1765 and his wife Richarda Croke born 1743.

The Wetherell family had long been resident at Pashley House in Ticehurst, Sussex (2).

Their three children were:

Susan Margaret Wetherell 1840-1911. She was born in London in 1840, and was married to Jonathan George Norton Darby in 1869 at Ticehurst. He was a barrister, and died in 1870 aged only 40 years. They had no children.

Ellen Lydia Richarda Wetherell 1843-1915. In 1865 she was married to Edward Ommanney Capron Hollist, and had five children.

Harriet Elizabeth Wetherell. She was born on 1 October 1847 at Hawkhurst in Kent, and was baptised on 24 December 1847 at St. Pancras Church in London. She was unmarried. Towards the end of her life she lived at Pashley House with her widowed sister Susan Margaret Darby. She died in 1921.

In 1841 Nathan and Susan Wetherell resided in Great Coram Street in Bloomsbury, London, with daughter Susan Wetherell born in the previous year. Nathan Wetherell was a barrister-at-law in actual practice. Also recorded with them was Francis Gould aged 50 and of independent means. The family had one female servant.

At the time of the 1851 Census the family were living at No 10 Cannon Place in Brighton, Sussex. By then two more daughters had been born, Ellen and Harriet.

In 1860 Nathan Wetherell had addresses at 14 Russell Square and at 3 Old Square, Lincoln's Inn, his barrister chambers.

There seems to be no record of the family in the 1861 Census, but they were residing at Pashley House in 1867 (3). Nathan Wetherell was then still a practising barrister and also a magistrate. With them there in 1871 were their unmarried daughter Harriet Wetherell, their married daughter Ellen Hollist with her husband and family, together with a butler, ladies' maid, housemaid, kitchen maid, and nurse.

Susan Wetherell died in 1879 aged 74 years at Ticehurst, and was buried there on 24 December 1879.

In 1881 widower Nathan Wetherell was still living at Pashley House, with his widowed daughter Susan Darby, together with her butler, ladies' maid, housemaid, kitchen maid, nurse, and page. He died at Pashley House on 7 February 1887 aged 78 years.


References
(1) Bury and Norwich Post 24 October 1838; Ipswich Journal 27 October 1838.
(2) Ticehurst is a village in East Sussex between Tunbridge Wells and Rye. "Pashley House, built in the reign of James I. is here ; the interior has fine antique oak carvings, wainscot and panelling, and the green-house contains varieties of flowers and foreign plants ; the manor and estate formerly belonged to the family of Pashley ; in the reign of Henry VIII it became the property of the May family, and Caroline, the only surviving daughter of Thomas May, esq. married the Rev. Richard Wetherell, from whom the manor and estate descend to the present proprietor, Nathan Wetherell, esq. J.P." Kelly's Directory 1878. Nathan Wetherell had married Susan Gould 1805-1879.
(3) Kelly's Directory 1867.

---