Harriet Gould 1800-1880
Harriet Gould was born on 28 April 1800, the daughter of Thomas Gould 1752-1829 and his wife nee Frances Hunt 1766-1836.

Adelaide Crescent
When the Census was taken in 1851 Harriet Gould had made her home with her elder sister Anne Gould at No. 8 Adelaide Crescent, Hove near Brighton in Sussex (1), together with a cook, housemaid and footman. Both sisters were unmarried.

Her sister Anne Gould died in 1855, and by 1871 Harriet Gould had moved to live at a smaller Georgian house No. 30 Bedford Square in Brighton, together with a maid.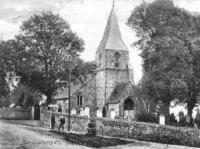 Burwash Church
On 5 January 1880 Harriet Gould died suddenly of heart disease when staying at St Leonard's on Sea near Hastings in Sussex (2).

At the family grave in Burwash churchyard in Sussex there is a monument to her memory which is inscribed:
"Also of Harriet sixth daughter (3) of the said Thomas & Frances Gould
born April 1800
died Jan 1880.
Be ye also ready St Matthew XXIV: 44".


References
(1) Their house in Adelaide Crescent was one of the first ten houses to be built from 1830 to 1834, to the design of Decimus Burton 1800-1881. Originally it had been intended to form a crescent, but that plan was never completed. When building started again in 1849 a different scheme was adopted, and finished in the 1860s.
(2) "3 February. The Will with a Codicil of Harriet Gould formerly of 8 Adelaide-crescent but late of 30 Bedford-square both in Brighton in the County of Sussex Spinster who died 5 January 1880 at 19 Marina St. Leonard's-on-Sea in the said County was proved at Lewes by the Reverend William Gould of Teddington in the County of Middlesex Clerk the Brother and Natham [[should be Nathan] Wetherell of Pashley Ticehurst in the County of Sussex Esquire the Executors." Personal Estate under £25,000: National Probate Calendar (Index of Wills and Administrations) 1858-1966 (1880) page 350. Nathan Wetherell was her brother-in-law, the husband of her sister Susan Wetherell nee Gould.
(3) She was in fact the fourth daughter.

---