Frances Gould 1789-1843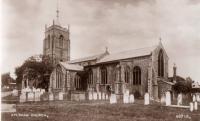 Aylsham Church
Frances Gould was the eldest daughter of Thomas Gould 1752-1829 and his wife nee Frances Hunt 1766-1836.

She was born on 10 February 1789 at Northaw Place in Hertfordshire.

She received a legacy of from her father when he died in 1829 (1).

Frances Gould was the favourite niece of her bachelor uncle the Reverend Dr Philip Hunt 1772-1838, and looked after him at Aylsham vicarage in Norfolk (2).

She died on 14 December 1843 at Bantonny House near Robertsbridge in Sussex (3).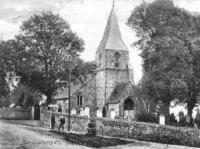 Burwash Church
There is a memorial to her at Burwash churchyard in Sussex inscribed as follows:

"Sacred to the memory of Frances
eldest daughter of Thomas Gould Esq. and Frances his wife
late of Northaw Place, Herts
born 10th Feb 1789
died 14th Dec 1843
Blessed are the dead which die in the Lord
Revelations XIV vs 13."


References
(1) "I give to my Daughter Frances Gould the sum of three thousand pounds having already given her one thousand pounds" : Will of Thomas Gould 1752-1829 10 October 1828.
(2) Law and Order in Georgian Bedfordshire Bedfordshire Historical Society volume 61 E. Stockdale (1982) pages 33 and 65.
(3) London Standard 16 December 1843.

---