Philip Gould 1803-1890
Philip Gould was born in 1803 at 73 Cheapside in London, the city home of his parents Thomas Gould 1752-1829 and his wife Frances Hunt 1766-1836.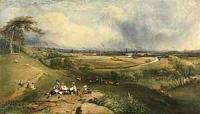 Broughton in 1830
On 7 March 1839 he married Louisa Pim at Market Drayton in Shropshire (1). She was born in 1811, the second daughter of William Pim of Field House in Market Drayton, and was baptised on 6 February 1807 at Ludlow in Shropshire.

Philip Gould was a cotton merchant in Manchester (2). By 1840 he was a Justice of the Peace.

When the 1841 Census was taken they resided at No 5 Cliff Point in Broughton, then still a rural village just outside Salford and a desirable place to live set on an escarpment overlooking a picturesque meander in the River Irwell.

A son Louis Philip Gould was born at Broughton on 30 November 1840 (3). Louisa Gould died on 7 August 1844 at Bardsea near Ulverston (4).

Philip Gould was still living at Cliff Point in Broughton when on 11 September 1845 he married Mary Burrell at Brightling in Sussex, the eldest daughter of the Reverend John Burrell 1781-1850, Rector of Brightling (5) and his wife nee Elizabeth Rosans. John Burrell later changed his name to John Burrell Hayley, and his family thereafter had the surname Hayley.

On 17 June 1850 Philip Gould, his wife and one of their children survived a serious accident: "On Monday afternoon, a carriage and pair left the residence of Mr. Peel, Singleton Brook. It contained Philip Gould, Esq. of Cliff Point, with his lady and child; and the Rev. Mr. Wright, incumbent of St. John's, Broughton. It had scarcely started, before one of the horses became restive; and Mr. Wright then alighted, and seized the head of the horse, with the intention of subduing it. In this endeavour the rev. gentleman became thrust against the wall (without being injured), and the pole of the carriage was broken; and Mr. Gould, in alighting from the vehicle, slipped, and fell in such a position as rendered it certain that, if the carriage went on, he must be run over. Mr. Wright, just at this juncture, was compelled to loose the head of the horse which he had been holding;, and the animals, finding themselves unchecked, dashed onwards, and drew one of the carriage-wheels over Mr. Gould's chest, and another over the very leg which had been broken not long before. Singular to relate, from neither of the wheels did Mr. Gould receive any injury whatever; and although the horses rushed onward madly and were not stopped till they had reached the neighbourhood of Broughton Bridge, neither Mrs. Gould nor the child, who were in the driving box, received any hurt whatever" (6).

On 6 June 1851 Philip Gould was recorded in the Census as being a cotton dealer living at 5 Cliff Point in Broughton together with his wife Mary, son Louis Philip Gould by his first marriage and three children by his second marriage, together with a cook, housemaid, two nurses, and a groom. Mary Gould's sister Louisa Hayley was then visiting the family, perhaps to see her baby nephew Marius Herbert Gould aged twelve weeks.

At the time of the 1861 Census, Philip Gould had retired from his business as a cotton merchant, but still living at No 5 Cliff Point in Broughton with his wife and family.

When Philip Gould was living there he was described as follows: "Close to the Priory on the Duncan Street side lived Philip Gould, a well-known eccentric little gentleman, somewhere about five foot two in height, and who used to ride about on a diminutive pony, even smaller in proportion than he was himself. The pony, a light brown, shaggy-looking little animal with an especially long tail, was as full of life and energy as his master, and the two of them were both characters in their way. It was amusing to see Philip Gould when he wanted the pony, to go out to the field where it grazed (which formed part of the Priory grounds), and bring it in to be saddled. He usually had something tempting in his hat which he held so that the pony could see it, and as soon as it did it would be quickly at his side, then he would jump on to it barebacked and ride it to the stable to be saddled. Having accomplished this, it was still more amusing to see Philip Gould in his tall white beaver hat astride the pony and with his feet nearly touching the ground riding along the road, perhaps with a large market basket on his arm going to do some shopping. The pony came trotting along, and you could always tell it even before it overtook you, by the noisy patter of its little feet. The two of them always appeared to be in a great hurry, as if they had business on hand that required immediate attention. Philip Gould, notwithstanding his odd little ways, was quite the gentleman and very polite. His hobbies were horses and hunting, and he was an enthusiastic follower of the hounds. He had a son of the same name as himself whom it is said he had christened in topboots and spurs" (7).

In 1868, as Manchester gradually extended northwards to engulf rural Broughton, Philip Gould left and took his family to Shrewsbury in Shropshire (8). They lived there at Woodfield House on Port Hill.

The child of Philip Gould and his first wife Louisa was:

Louis Philip Gould. He was born on 30 November 1840, and died in 1927.

The children of Philip Gould and his second wife Mary were:

Marie Louise Gould. She was born on 26 September 1846 (9) and died on 29 October 1846 (10).
William Burrell Egerton Gould. He was born on 31 May 1848 (11) at Bunbury in Cheshire, and died in Kensington, London on 31 December 1921 aged 74 years.
Florence Helena Gould. She was born in 1850 at Broughton, and died on 4 October 1920. She was buried on 7 October 1920 at East Sheen in London. She was unmarried.
Marius Herbert Gould. He was born on 10 March 1851 at Broughton, and died on 16 November 1918. He was unmarried.
Alexander Percy Gould. He was born in 1856 at Broughton. He died at Taunton in Somerset in 1932 aged 77 years.

Their father Philip Gould died early in 1890 aged 86 years.
His wife Mary Gould had predeceased him at their home Woodfield in Shrewsbury on 11 September 1881 aged 71 years (12).


References
The painting of Broughton in the 1830s is by William Wyld, and is in the Manchester City Art Gallery.
(1) "MARRIAGES ... On the 7th inst., at Market Drayton, by the Rev. James Hordern, M.A., Philip Gould, Esq., of Manchester, to Louisa, second daughter of William Pimm [sic], Esq., of the former place." Staffordshire Gazette and County Standard 13 March 1839.
(2) In 1834 he left his partnership with his brother Richard Gould 1792-1868 and John Rose Hull, and seems afterwards to have been trading on his own account. Morning Chronicle 8 January 1834.
(3) Manchester Courier and Lancashire General Advertiser 12 December 1840. He was listed as six months old in the Census Return, which was taken on the night of 6 June 1841.
(4) Manchester Courier and Lancashire General Advertiser 10 August 1844. Bardsea and Ulverston were then in the Furness district of Lancashire, but are now in Cumbria.
(5) London Standard 18 September 1845; Gentleman's Magazine 1845.
(6) Manchester Times 19 June 1850.
(7) Reminiscences of Manchester and some if its Local Surroundings from the Year 1840 Louis M. Hayes (1905) page 61.
(8) The house was purchased by the famous scientist James Prescott Joule. James Joule: A Biography Donald S.L. Cardwell (1989) page 229. The house is still standing, having survived the Second World War, but exactly which of the extant houses it was is uncertain because of subsequent development and extensive re-numbering of the houses. Much of the district is now (2012) part of the University of Salford.
(9) Manchester Courier and Lancashire General Advertiser 3 October 1846.
(10) The Patrician volume 2 (1846) page 392.
(11) Morning Post 5 June 1848.
(12) Manchester Courier and Lancashire General Advertiser 14 September 1881.

---