Joseph Gould 1797-1866
The Reverend Joseph Gould was born in 1797, the son of Thomas Gould 1752-1829 and his wife nee Frances Hunt.

He was educated at Balliol College in Oxford, graduating Bachelor of Arts in 1818 and Master of Arts in 1821. He was ordained deacon in Peterborough cathedral on 9 April 1820, and ordained priest on 14 October 1821 at Buckden church in Cambridgeshire.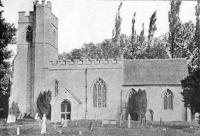 Newton Blossomville Church
He was appointed stipendiary curate of Newton Blossomville in Buckinghamshire on 2 August 1820, and stayed there till 1822 (1). In 1822 he built a Sunday School there at his own expense. The building was later enlarged, and by 1861 was also being used as the village school, with a library for the villagers (2).

On 12 April 1821 he had married his cousin Lydia Gould 1796-1869, the only child of his uncle Nathaniel Gould 1756-1820, at Melcombe Regis, Weymouth in Dorset (3).

They had the following children:

Lydia Gould. She was born in 1823 at Cardington in Bedfordshire. On 22 February 1853 she was married at Burwash to Henry Dixon of Frankham Park near Tunbridge Wells in Kent. The ceremony was conducted by her uncle the Reverend William Gould 1807-1880 (4). She died on 2 November 1865 at Frankham (5).

Ellen Maria Gould. She was born in 1824 at Hastings in Sussex. She was unmarried. A memorial inscription at Burwash church is said to read: "In memory of Ellen Maria Gould of Ashlands daughter of the Revd Joseph Gould born Feb 3rd 1824 died Aug. 4th 1915." In her Will, dated 11 January 1912, she bequeathed the Ashlands Estate in Burwash to her nephew Henry Gould Dixon, and after several specific legacies, she left the residue of her property to her nieces Lydia Dixon and Mary Dixon (6).

The Reverend Joseph Gould purchased in 1835 the advowson of Burwash in Sussex (the right of choosing clergy to serve in a parish and presenting them to the bishop). He began serving his ministry there shortly afterwards.

In 1836, he gave evidence before the Commissioners appointed under the Poor Law Amendment Act under the Poor Law Amendment Bill : The seeds of better things have been sown; impertinent labourers, who have been dismissed by their masters, have found that they could not, as heretofore, throw themselves upon the parish; and, after smarting for their folly, have been glad to get a job of hard task-work. Single young men have found, that, after gambling and dissipating away their earnings during harvest and hopping, they must not look to be supported during winter at the expense of others. A salutary dislike of the work-house has arisen (7).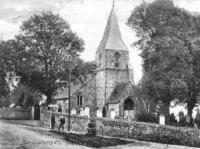 Burwash Church
On 18 November 1840 the Reverend Joseph Gould became Rector of Burwash (8), and he remained serving there until his death in 1866.

Joseph Gould took up the philanthropic moves that were being made in Manchester by his uncle Nathaniel Gould 1756-1820 at the time of his death. It had been his desire that "the Gospel should be preached to the poor", and to that end he had purchased the galleries of St. Stephen's church in Manchester, intending them to be free sittings. Nevertheless he had been compelled to pay an assessment on their value. When they were inherited by the Reverend Joseph Gould he too was charged an assessment, but he took legal advice and let the front seats and eventually gave all the seats to the poor for ever (9).

In 1838 he purchased a house in the parish called Batemans. After belonging to another family, Rudyard Kipling began to purchase property at Batemans in 1902 and it became his home. It is now preserved by the National Trust.

At the time of the 1841 Census he and his family were staying at Bunbury in Cheshire with his brother-in-law, the Reverend John Egerton and his family. John Egerton had married his sister Ellen Gould 1802-1862.

When the 1851 Census was taken, the Reverend Joseph Gould was living with his family at Burwash Rectory, together with a butler, footman, coachman, housekeeper, cook, ladies' maid, housemaid and kitchen maid. The family were recorded there also in 1861, living in similar style.

Joseph Gould died in 1866. He is commemorated by a stained glass window in Burwash church, as are other members of his family.


References
(1) The village is now within Milton Keynes.
(2) History and Topography of Buckinghamshire J.J. Sheahan (1861).
(3) The European Magazine and London Review 1821.
(4) Hampshire Telegraph 26 November 1853.
(5) Sussex Advertiser 14 November 1865.
(6) She "left estate of the gross value of £8,438 14s. 3d., with nett personalty £4,095 19s. 3d. Mr. Henry Gould Dixon, of Frankham, near Mark Cross, her nephew, and Mr. Marius Herbert Gould, of the Junior Carlton Club, S.W., are the executors." Sussex Agricultural Express 22 October 1915.
(7) Parliamentary Papers on the Poor Law Amendment Bill volume 29 (1836).
(8) He was instituted to the living by the bishop on that date: Index Ecclesiasticus 1800-1840 J. Foster (1890) page 73.
(9) The History of the Factory Movement from the Year 1802 by Samuel Kydd volume 1 (1857).

---