Philip Reginald Egerton 1832-1911
The Reverend Philip Reginald Egerton was born on 15 July 1832 at Bunbury in Cheshire, the third son of the Reverend John Egerton 1796-1876 and his wife née Ellen Gould.

He graduated BCL (Bachelor of Civil Law) at New College Oxford in 1857 and MA in 1885. He was appointed Warden and Master of All Saints' School at Bloxham in Oxfordshire in 1860 (1).

All Saints' School had been founded in 1853 by the Reverend J.W. Hewett as a Church of England boarding school for the sons of "the professional classes". It was housed originally in the vicarage and from 1854 in a farm-house. In 1857 Hewett went bankrupt, and his school closed. However the derelict building was bought by the Reverend Philip Reginald Egerton, then curate of Deddington, who re-opened the school in 1860 as Bloxham School.

With the financial help of the Gould family he developed the school until in 1896 he transferred it to the Society of the Woodard Schools. The original building was extended in 1860-1863 to the design of the architect G. E. Street, and was enlarged in 1864 and 1869, and again in 1871 when the prominent school chapel was built.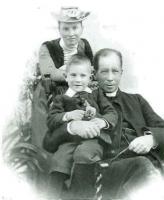 With his daughter and grandson
On 4 November 1862 he married his cousin Harriet Gould, daughter of Nathaniel Gould 1787-1867 (2).

Philip and Harriet Egerton had one child, their daughter Ellen Egerton (3).
She was born on 23 September 1863 at Bloxham (4).

She was married to her second cousin Dr. Francis Richard Berthon Hinde 1865-1948 on 28 October 1890 at Bloxham. He was the son of Major-General John Hinde CB and Frances Gould 1825-1890. They had a son.

Ellen Hinde died on 9 April 1943 (5).

Harriet Egerton died on 13 December 1907.

The Reverend Philip Reginald Egerton died on 18 April 1911. He was buried in North Cray in Kent.


References
(1) Transactions of the Historic Society of Lancashire and Cheshire for the Year 1918: The Monuments of Bunbury Church, Cheshire volume 70 New Series volume 34 J.P. Rylands and F.C. Beazley (1919) pages 90-91.
(2) Philip Reginald Egerton had been troubled not only by anxieties about taking on Bloxham School and its precarious financial circumstances, but also by concern about marriage. "The difficulties there were twofold. He was in love with his cousin, Harriet Gould, daughter of Nathaniel Gould of Tavistock Square, London, but was concerned that they were too closely related for marriage.
Bishop Wilberforce had ruled firmly in 1860 that there was no legal impediment and Liddon urged a short engagement, but now Harriet's wealthy father added to Egerton's hesitation by questioning his prospects. The young man poured out his troubles to his bishop, wondering whether to give up Bloxham entirely. Again, the bishop was decisive, applauding his solitary decision to start the school and pointing out that 'even as a matter of mere worldly prudence I think it would be a great mistake - you would by it throw yourself back into the mere common mass of Curates, whereas you now stand on a vantage ground few can reach'.
Wilberforce thought that a married headmaster would be good for the school, and hinted that it might benefit from the Gould family wealth. Whether or not Egerton showed his uncle this letter, as the bishop suggested he should, the wedding duly took place on 4 November 1862." A History of All Saints' School, Bloxham, 1860-1910 with Supplement, 1910-1925 (1925) page 24.
(3) Gentleman's Magazine volume 215 page 632.
(4) "It must be supposed that Harriet Egerton gave him the strength he needed, and soon they had the interest and joy of the birth of a daughter, Ellen, on 23 September 1863. Unfortunately, Harriet Egerton was slow to recover from childbirth and was still unwell twelve months later, and there were no further children. The extent of Mrs Egerton's influence has probably been underestimated": A History of All Saints' School, Bloxham, 1860-1910 with Supplement, 1910-1925 (1925) pages 24 and 25.
(5) Her estate was handled by her first cousin Charles Hertel Egerton 1884-1951 as being her personal representative. He was the son of her father's brother Hugh Aldersey Egerton 1834-1913.

---