Harriet Gould 1835-1907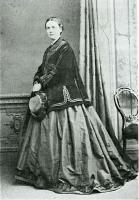 Harriet Egerton in 1870
Harriet Gould was born on 27 November 1835 in London, the daughter of Nathaniel Gould 1787-1867 and his wife nee Mary Crompton.

She was baptised on 26 December 1835 at St Pancras church in London.

On 4 November 1862 she was married to her cousin the Reverend Philip Reginald Egerton at Bloxham in Oxfordshire (1). He was born on 14 July 1832, the son of the Reverend John Egerton and his wife nee Ellen Gould 1802-1862. Ellen Egerton was her father's sister.

Her life work lay in assisting her husband in establishing Bloxham School. It had been started in 1853 by the Reverend J. W. Hewett as a Church of England boarding school. But in 1857 Hewett went bankrupt, and it closed.

The Reverend Philip Reginald Egerton, then curate of Deddington, bought the derelict building and re-opened it in 1860 as All Saints' School at Bloxham.

After her marriage "Harriet Egerton became virtually a co-founder of the school not only because she was always entirely at one with her husband in all that he did, but also because her family had considerable private means and several times its members helped much to make possible the erection of the earlier additions to the School" (2).

"Mr. Egerton was never alone in his work. From first to last Mrs. Egerton was entirely one with him in all he did. If sympathy and encouragement were needed, she was there to supply it; if a woman's influence could be helpful, hers was always at his service; if means were wanted, he was always welcome to what she had — while Mr. Egerton gave liberally of his energy and ability, she gave equally generously of her substance to the work they both had at heart. Mr. Egerton himself said on one occasion, 'I could not have gone through the work of the last seven years without the loving help and support of my wife'" (3).

Harriet Egerton in 1880
With the financial help of the Gould family, including Harriet Egerton's sisters Frances and Caroline Gould, the Egertons developed the school, until in 1896 it was transferred to the Society of the Woodard Schools. The original building was extended in 1860-1863 to the design of the architect G. E. Street, and was enlarged in 1864 and 1869, and again in 1871 when the prominent school chapel was built.

Philip and Harriet Egerton had one child, their daughter Ellen Egerton. She was born on 23 September 1863 at Bloxham (4). She was married to her second cousin Dr. Francis Richard Berthon Hinde 1865-1948 on 28 October 1890 at Bloxham. He was the son of Major-General John Hinde CB and Frances Gould. Ellen Hinde died on 9 April 1943.

Harriet Egerton died on 13 December 1907.

The Reverend Philip Reginald Egerton died on 18 April 1911. He was buried in North Cray in Kent.


References
(1) The wedding ceremony was conducted by the Reverend Joseph Gould, the bride's uncle. He had performed the ceremony when her parents married.
(2) History of All Saints' School, Bloxham, 1860-1910 (1910).
(3) A History of Bloxham School B.S. Smith (1978).
(4) Gentleman's Magazine volume 215 page 632.

---