Hugh Aldersey Egerton 1834-1913
Hugh Aldersey Egerton was born on 7 February 1834 at Bunbury in Cheshire, the son of the Reverend John Egerton 1796-1876 and his wife née Ellen Gould.

Legion d'Honneur
Crimea Medal
Unlike his elder brothers Hugh Aldersey Egerton (1) did not follow his father into the ministry of the Church of England. He left England aged about 20 and served in the Crimean War. For his gallantry in action at the battles of Inkerman and Sebastopol in 1854 he was awarded the Crimea Medal and the French Legion d'Honneur (2).

In about 1855 he went to South Australia, and built up extensive property at Peachey Belt near Adelaide (3). This he put up for sale early in 1856, with the intention of returning to England (4). Instead however he settled at Kapunda in South Australia.

On 25 May 1859 he married Kate Mary Conry at the St Francis Xavier Cathedral, Victoria Square in Adelaide. She was the daughter of the late Thomas Conry of Dublin (5). They lived at Kapunda, and had three daughters: Ellen Anna Lucy Egerton born on 11 July 1860 in Ross Creek near Kapunda (6), Lucy Mary Julia Egerton born on 12 May 1863 in Mount Mascal near Kapunda (7) and died on 3 January 1950 at St Kilda in Victoria, and Mary Egerton born at Daylesford in 1868 and died aged nine months.

Volunteer defence forces having been set up in South Australia around 1860, he became Captain of the Kapunda Rifles in March 1861, qualified by his military experience (8). On 1 July 1861 he published a letter defending them (9).

He became a partner in a firm of auctioneers and commission agents (10), and worked diligently in the business. Unfortunately however he was forced into bankruptcy in 1863 by the activities of an unscrupulous partner. He had wanted to quit the partnership to move to Melbourne, but his partner would not agree to his leaving. Although he was very well regarded in Kapunda, he resigned as Captain of the Kapunda Rifles (11) and on 3 September 1863 sailed for Melbourne (12).

The Kapunda Mine band led his wife and himself in procession, accompanied by many of the town's inhabitants. Two volunteer companies presented arms to him at the Railway Station. "Such a farewell must have been very gratifying both to Mr. and Mrs. Egerton, considering their recent misfortunes". They received a handsome tribute from the local people: "To Hugh Aldersey Egerton, Esq.— We, the undersigned, inhabitants of Kapunda and its vicinity, hearing with regret that you are about to leave the colony, bid you farewell, and express our sympathy with you in the position in which you are placed through the misconduct of a partner. Having known you for many years, we can endorse the expression of the Commissioner of Insolvency, that it was through no fault of yours that an excellent and profitable business was ruined, and unmerited odium cast upon yourself; and we are heartily sorry that though paying 20s. in the pound your certificate has been suspended (13), and in other ways you have been made the victim of misplaced confidence. Should you again reside among us we shall greatly rejoice, and can assure you of a hearty welcome, and if not, wherever you go we wish you success, and trust that you may speedily attain that position to which your talents, abilities, and integrity entitle you. Kapunda, August 26, 1863." (14).

He found employment as manager of the Inverness Gold Mining Company, one of many then being formed and registered in Victoria. A notice under his name as manager appeared on 23 June 1865 (15).

Mining was carried out at Wombat Hill at Daylesford in Victoria, with a company office in Vincent Street in the town. The nominal capital of the company was £1500 in £10 shares, but Hugh Aldersey Egerton was not himself a shareholder.

However by 9 July 1867 he was not only managing the Don Gold Mining Company, but was also a shareholder in the business (16). The Princess Quartz Mining Company was also by then under his management (17).

In 1871 he was at Bendigo in Victoria, trading as a stockbroker under the name Egerton and Co. with two partners in the City Mining Exchange, with an agency in Melbourne. His partners were James Eddy and James Harris, and their newspaper advertisement stated that "Each member of the firm is a practical miner, and at the same time thoroughly acquainted with business matters ... and will spare no effort to further the interests of their clients." (18). All did not go well however, and in 1872 the firm lost two actions in the Supreme Court for not taking up shares they had ordered (19).

By 1 December 1873 Hugh Aldersey Egerton was back in England (20), living with his parents at Hextable, when he filed a patent application for "improvements in the construction of ships, ferry boats and other vessels" (21). He gave the same address on 30 December 1875 when he filed another application for the same specification (22).

SS Castalia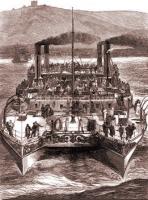 SS Castalia
However in 1875 he was living at Banbury in Oxfordshire when an account appeared in the press of a huge three-hull steamship he had invented for conveying passengers across the English Channel in their trains without pitching or rolling (23). The trial of a model of the vessel took place on the Welsh Harp lake at Hendon and later on the Serpentine lake in Hyde Park in London in the following year (24). A full description of the invention was described in detail in the technical press (25).

By 23 August 1876 he had removed to South Hill Park, Hampstead in London, when he filed another patent application for "Improvements in the construction of floating piers and other analogous structures for embarking or disembarking passengers, animals or merchandise" (26).

His giant steamship was apparently never built, although a similar twin-hulled vessel the SS Castalia came into service on the Dover-Calais sea route in September 1874. However the design was not a success and the ship was sold in 1883 for use as a floating hospital on the River Thames. The French government had been interested in cross-Channel shipping improvement since 1871 when it set up a commission of inquiry. Hugh Aldersey Egerton moved to France, where he lived from 1882 (27).

On 10 April 1883 he married Eugénie Joséphine (her maiden surname is unknown). She was born in 1859 at Bolbec, Seine-Maritime in Normandy, France.

They had a son Charles Hertel Egerton born on 22 September 1884 at Fécamp in France. He had a distinguished military career in the British army, being awarded the Distinguished Service Order and the Military Cross. He was twice married, and died on 16 October 1951 at St Jean-de-Luz, Basses Pyrenees in France.

Hugh Aldersey Egerton and his wife lived at various places in France until 1891, when they came to England. Their son was educated at a school in Bedford, after which he attended the Royal Military Academy at Woolwich. From 1891 until 1903 they lived in England in furnished accommodation. In 1903 they returned to France and lived at the Chateau de St. Antoine, which Eugénie Joséphine Egerton had inherited, her husband having business in France.

In 1912 they gave up the chateau, and set up home at The Croft, Great Bedwyn in Wiltshire, where Hugh Aldersey Egerton died on 5 October 1913 (28).

His widow Eugénie Joséphine Egerton died in 1948.


References
(1) His middle name derives from the small Cheshire village of that name near Chester. In the 1500s John Egerton of nearby Christleton married Elizabeth Aldersey of Aldersey. His father Ralph Egerton leased the tithes from Thomas Aldersey, a haberdasher and citizen of London, according to information given to the Cheshire historian George Ormerod by the Reverend John Egerton 1796-1876, father of Hugh Aldersey Egerton: The History of the County Palatine and City of Chester G. Ormerod (1819) volume page 141.
So presumably John Egerton of Christleton was an ancestor of the Egerton family.
(2) Dix Noonan Webb Ltd, 16 Bolton Street, London W1J 8BQ Sale 20 September 2002 Lot 867: "The pair of miniature dress medals attributed to Captain H. A. Egerton, Crimea, no clasp, 12mm.; France, Legion of Honour, 14mm., silver, gold and enamel, suspended from a composite ribbon bearing two full-size but copy clasps, Inkermann, Sebastopol, contained within an oval glass-fronted case, 155 x 135mm., good very fine (2) £50-70 ... A paper with details of the recipient is pasted on to the back of the case. Some of the details: 'Hugh Aldersey Egerton, born 7th February 1834, died 5th October 1913, Captain, South Australian Kapurda [[should be Kapunda] Rifle Volunteer Force 25th February 1860'"". The significance of that date is unknown, but may be the date of forming the Kapunda Rifles.
(3) He had perhaps intended to emigrate to Australia earlier. On 30 November 1852 an unclaimed letter was awaiting him at a post office in South Australia: South Australian Register 16 December 1852.
(4) South Australian Register 4 April 1856.
(5) South Australian Advertiser (Adelaide) 26 May 1859. This report incorrectly gives the bride's surname as Cowey. The surname was variously spelt Conry, Conro or Conroy. Kate Mary Conry was a daughter of Thomas Conry by his wife nee Ellen Dease 1804-1886.
(6) South Australian Register 13 July 1860.
(7) Australia Death Index 1787-1985; South Australian Register 16 May 1863.
(8) South Australian Register 8 March 1861.
(9) South Australian Weekly Chronicle 6 July 1861.
(10) South Australian Register 26 June 1863.
(11) Reported in the South Australian Register 18 September 1863.
(12) South Australian Register 4 September 1863.
(13) Actually he was granted a certificate by the Court on 29 June 1863: South Australian Register 30 June 1863. He was finally discharged of bankruptcy in 1867: The Argus (Melbourne) 27 July 1867.
(14) South Australian Advertiser 5 September 1863; South Australian Weekly Chronicle 5 September 1863. His Kapunda Rifles company was fondly recalled as late as 1919 by his fellow officer John Small: The Register (Adelaide) 21 January 1910.
(15) Victoria Government Gazette No. 71 dated 23 June 1865 page 1392.
(16) Victoria Government Gazette No. 76 dated 16 July 1865 page 1279.
(17) Victoria Government Gazette No. 88 dated 18 July 1865 page 1581.
(18) Bendigo Advertiser 25 November 1871.
(19) The Argus (Melbourne) 10 August 1872. The first case concerned 400 mining shares in the Richard Heales Company, Messrs Egerton and Co. paying £52 1s 8d in damages, and in the similar second case paid an agreed £45.
(20) He seems to have left Australia alone, as there is no reference to his wife in the English Census Returns. She seems to have been a Roman Catholic, and so there would have been no question of a divorce. Presumably she had died, although no record of that has been found in the Victoria Registers.
(21) Under No. 3936 London Gazette 3 February 1874 issue 24062 page 505. This patent became void for non-payment of an additional £50 stamp duty before the expiration of its third year: London Gazette 8 December 1876 issue 24391 page 6842.
(22) Under No. 4549 London Gazette 14 January 1876 issue 24284 page 158.
(23) Dover Express 12 November 1875; Cheshire Observer 13 November 1875.
(24) Luton Times and Advertiser 26 February 1876.
(25) Van Nostrand's Eclectic Engineering Magazine volume 15 July-December 1876 (1876) pages 92 and 93. Basically the vessel was a huge trimaran, each hull fitted with two massive paddle wheels and connected by girder bridges. The vessel, 600 feet long and 228 feet broad, was designed to counter the largest waves likely to occur in the English Channel. It was intended to convey 1500 passengers at a time in their trains of fifty railway carriages or sixty loaded goods trucks. Although too large for any harbour, it was intended to moor the vessel at right-angled piers. The inventor claimed that "the most qualmish travelers need not fear any derangement of the stomach".
The magazine reviewer, present at the Welsh Harp trial, added that "We would prefer not to fully endorse the inventor's estimate (fifteen knots an hour) of the speed to be obtained by this vessel, as though the model sails very well, the friction of a full-sized vessel is by no means proportionate to that of a model ... No steering apparatus is needed, as any one of the three engines can be slowed or reversed at pleasure, and as was proved by the model the vessel can spin upon its center as readily as a teetotum." The estimated cost of the ship was £100,000.
It was further suggested that such vessels could also be used in shipping live cattle from Australia to England: "The inventor, as an old colonial, is fully alive to this, and he has favored us with calculations to show that a most remunerative trade might be done in this direction. We shall be glad to find these anticipations justified, but for the present we can do no more than give our readers some idea of the ingenious proposals put forward by Mr. Egerton, and leave them to be discussed upon their merits."
(26) Under No. 3316 London Gazette 15 September 1876 issue 24363 page 5027; London Gazette dated 17 October 1876 issue 24373 page 5535.
(27) Information about his life in France is to be found in the evidence given in a case in the Chancery Division of the High Court on 5 and 6 June 1956, in which their son's widow (of his second marriage) claimed that her late husband's estate should be administered according to French law because Charles Hertel Egerton and his second wife had intended living permanently in France after their marriage. However it was held that the husband's English domicile should apply in the absence of a contract to the contrary: In re Egerton's Will Trusts: Lloyds Bank Ltd. v Egerton and another. Reports of the High Court Chancery Division (1956) 593; www.uniset.ca/other/cs3/1956Ch593.html
(28) His Will was proved in London on 13 February 1914, probate being granted to his widow. Effects £130 15s 6d: National Probate Calendar (Index of Wills and Administrations) 1858-1966 (1914) page 131.

---