Joseph Gould 1834-1908
Joseph Gould was born in 1834 in Sheffield, the son of Thomas Gould 1802-1869 and his wife nee Frances Maria Brookfield 1805-1888.

After being educated at Sheffield Collegiate School, he entered Gonville and Caius College in Cambridge on 10 March 1853, and was a Scholar there from 1854 to 1860. He graduated Bachelor of Arts in 1857 and Master of Arts in 1860. He was ordained deacon at Lichfield Cathedral in 1858 and priest there in 1859.

He became an assistant master at Repton School in 1858, and taught there for thirty years. By 1861 the Reverend Joseph Gould was an assistant housemaster at Repton School.

In 1865 the Old Mitre Inn, close by the Cross in Repton village was converted into a house for him (1).
It became Mitre House at the School, and he was its first housemaster.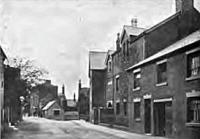 Joseph Gould's House in Repton
He married Frances Mary Grant Hutchinson on 28 December 1865 at St Stephen's church, Paddington in London. She was born on 25 May 1834 at Calcutta in India, the second daughter of the late Lieut-Colonel George Hutchinson of the Bengal Engineers 1793-1852 and his second wife Elizabeth Harrington Thomason 1811-1894 (2).

They had the following children, all born in Repton:

Reginald Thomason Gould 1869-1947. Like his grandfather Thomas Gould he became a lawyer, and was Town Clerk of Glastonbury in Somerset.

Florence Montgomery Gould. She was born in 1870, and died in Conway in 1871.

Winifred Mary Gould. She was born in 1875.

Leonard McLeod Gould 1878-1928. After graduating from his father's old Cambridge college, he became a schoolmaster, before emigrating to Canada where he edited a newspaper in Victoria, British Columbia. He served with distinction in the Canadian army during the First World War, and was decorated with the Belgian Croix de Guerre.

When the 1871 Census was taken, their father the Reverend Joseph Gould was a recorded as being a housemaster living in Long Street with his wife and family. Also resident in the house were 28 scholars aged from 12 to 17, a matron, cook, nurse, and four other female servants. Staying with them was his brother John Gould 1849-1920, then aged 22 and an undergraduate at Trinity College, Cambridge. He was to follow his brother in due course to Repton School and also become a housemaster there.

In 1881 the family were still in Repton, at their house by the Cross. The household then comprised the parents, a daughter Winifred Mary Gould aged six (born at Repton) and son Leonard McLeod Gould aged two (born at Repton on 25 July 1878), 30 boarding scholars aged from twelve to seventeen, a matron, cook, nurse, four other female domestics, and a page boy. Reginald Gould was not listed in the Census Return, being away as a boarding pupil at Harborne Vicarage in Staffordshire, prior to entering Repton School.

Joseph Gould retired in 1889, having served for thirty years at Repton School (3).

By 1891 he and his wife were living at the Vicarage in Great Bourton in Oxfordshire, where Joseph Gould was curate in charge of the parish. Later in 1891 they moved to Beachampton in Buckinghamshire (now part of Milton Keynes) where Joseph was vicar from 1891 to 1903 (4).

The Reverend Joseph Gould died at 6 Westbury Road in Ealing on 22 May 1908. His widow died in 1913 aged 78 years.


References
The photograph of the Reverend Joseph Gould was kindly provided by Paul Stevens, Archivist and Librarian, Repton School.
(1) G.S. Messiter Records and Reminiscences of Repton (1907) page 7. Mitre House later moved to larger premises at the edge of the village.
(2) The 1901 Census Return gives more information about Mrs Gould's birthplace, which was Cossipore. This is in Calcutta and there is a noted English School there.
(3) For some accounts of his time as Repton housemaster see Memories of Joseph Gould 1834-1908.
(4) The advowson of the benefice was in the hands of his old Cambridge college.

---