Reginald Thomason Gould 1869-1947
Reginald Thomason Gould Gould
Born: 1869 Repton, Derbyshire
Died: 1947 Glastonbury, Somerset
Father
Joseph Gould 1834-1908
Mother
Frances Mary Grant Hutchinson
Siblings
Florence Montgomery Gould 1870-1871
Winifred Mary Gould 1875-
Leonard McLeod Gould 1878-1928
Spouse
Emily Laura Oldfield Clifford
Children
Clifford Gould 1897-1918
Hugh Clifford Gould 1900-1973
Reginald Thomason Gould was born on 16 January 1869 at Repton in Derbyshire, the son of the Reverend Joseph Gould 1834-1908 and his wife nee Frances Mary Grant Hutchinson. His father was a housemaster at Repton School. This second forename was the surname of his maternal grandmother nee Elizabeth Harrington Thomason 1811-1894.

In 1881 he was a boarder aged 12 years at Harborne Vicarage in Staffordshire, presumably being prepared for entry to Repton School. When the 1891 Census was taken he was at Newton Solney in Derbyshire near Burton-on-Trent visiting the household of Edward D. Salt, a brewer.

After leaving Repton School he was educated at Trinity College, Cambridge. He graduated BA in 1891 and MA in 1895 (1). He did not follow his father into the Church or teaching, but entered the legal profession and qualified as a solicitor in February 1895 (2). In doing so, he was following in the profession of his paternal grandfather Thomas Gould 1802-1869 and his great-grandfather Joseph Gould 1754-1821. Four of the six sons of Thomas Gould 1802-1869 also entered the legal profession, two becoming solicitors and two barristers.

From 1897 till 1944 Reginald Thomason Gould 1869-1947 was in practice as a solicitor at Gould & Swayne, 31 High Street in Glastonbury. He became Town Clerk in 1902 and Clerk to the Glastonbury District Council.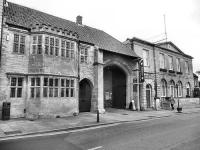 Abbey Gateway and Town Hall
Blenheim House
When the 1901 Census was taken Reginald Thomason Gould was married and living with his family at Blenheim House in Chalkwell Street, Glastonbury.

In 1896 he had married Emily Laura Oldfield Clifford at Paddington in London. She was born at Brighton in Sussex in 1863, the daughter of an army doctor.

They had two sons:

Clifford Gould. He was born on 27 March 1897 at Westbourne Grove in London. He was educated at Repton School and at the Royal Military Academy, Woolwich in London. He joined the Royal Horse Artillery in 1915, and was appointed Lieutenant in July 1917. He served on the Western Front in France from 1915 to 1918 with conspicuous gallantry. He was Mentioned in Dispatches and was awarded the Military Cross (3). Tragically he was killed in action on 24 August 1918 (4).

Hugh Clifford Gould 1900-1973. He was born at Glastonbury. In 1940 he married Betty Katharine Hayward Nicholson 1908-1971 at Weston-super-Mare, and they had a son and daughter. He had a military career, and became a Lt. Colonel serving in India by 1947. He died at Weston-super-Mare in 1973. His wife had predeceased him at Bristol in 1971 aged 63 years.

Reginald Thomason Gould died suddenly at Glastonbury on 5 January 1947 aged 77 years. His wife Emily Laura Oldfield Gould died there later in the same year aged 84 years.

"For 38 years Town Clerk of Glastonbury, Mr. Reginald Thomason Gould, of Blenheim House, Glastonbury, died on Sunday, aged 77 years. He had been ill only few days and his passing was unexpected.

Born at Repton, where his father, the late Rev. Joseph Gould was a housemaster at the famous school, Mr. Gould was educated at Repton and Trinity College, Cambridge. After qualifying as a solicitor, he practised for a time in London before coming to Glastonbury to join the late Mr. W. T. Swayne in 1897. For a brief period he was a member of the Town Council, but resigned to take the appointment of Town Clerk in November, 1902 ... For 21 years, Mr. Gould served on the Somerset County Council ... was chairman of the County Valuation Committee for a number of years, and also served on the Finance Committee ... Mr. Gould retired from the firm of Gould & Swayne in September, 1944.

At the meeting of Glastonbury Town Council ... the Mayor ... referred to Mr. Gould's passing, remarking that it came as a great shock to the members and many friends in the district. Mr. Gould was a man of sound judgment and clear vision, she said, and as a Council they owed much to him during the years he was Town Clerk. Mr. Gould's greatest hobby was gardening, and it was his great delight, during the summer, to take visitors around to see his beautiful roses and flowers. He devoted a great many hours to work in the garden, which he loved so much. Glastonbury will miss a good citizen, and we shall miss a good friend. (5)"



References
(1) Repton School Register: Supplement to 1910 Edition edited by M. Messiter (1922) page 106.
(2) Alumni Cantabrigienses Part II 1752-1900 volume 3 (1947) page 102.
(3) Supplement to the London Gazette Issue 3046 page 609 8 January 1918.
(4) Repton School Register: Supplement to 1910 Edition edited by M. Messiter (1922) page 295.
(5) Taunton Courier & Western Advertiser 11 January 1947.

---