Leonard McLeod Gould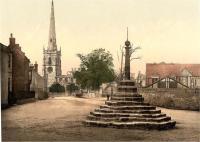 Repton Cross
Leonard McLeod Gould was born on 25 July 1878 at Repton in Derbyshire, son of the Reverend Joseph Gould 1834-1908, a housemaster at Repton School, and his wife nee Frances Mary Grant Hutchinson. He was baptised at Repton on 11 August 1878.

In 1881 the family were living in Repton, in a school house by the Market Cross. With himself aged two years old and his parents were his sister Winifred Mary Gould aged six, thirty boarding scholars aged from twelve to seventeen, a matron, cook, nurse, and five other servants. His elder brother Reginald was then away from home, a boarder aged 12 years at Harborne Vicarage in Staffordshire, presumably being prepared for entry to Repton School.

By 1891 Leonard McLeod Gould was also at school, a boarder aged twelve at Clifton School (Colchester House) near Bristol, but was educated at Repton School from September in that year until July 1897. He went on to study at Gonville and Caius College in Cambridge, gaining the degree of Bachelor of Arts in 1900 (1). In the following year he was teaching as an assistant master at Parkgate School, Wirral in Cheshire.

He emigrated to Canada, and by 1910 was editing a newspaper in Victoria, British Columbia. He served in the Canadian infantry in the First World War, becoming a sergeant in the Central Ontario Regiment. In recognition of his outstanding gallantry he was awarded the Belgian Croix de Guerre on 9 July 1918 (2).

He had enlisted at Victoria on 6 December 1915, having no previous military experience other than three years in the Cambridge University Rifle Corps (3), naming as his next of kin his brother Reginald Thomason Gould. His surviving army papers record him as being five feet ten inches in height, with green eyes and brown hair, and having a fair complexion. He had been living at 421 Central Buildings, View Street in Victoria, and was unmarried. He had defective eyesight, and had worn glasses from childhood. Although he was recorded as having had no distinguishing marks on joining the army, his war service left him with a scar on the upper lip and two scars on his left hand (4).

He sailed with his battalion from Halifax in Nova Scotia on 20 June 1916 in the SS Empress of Britain, arriving in Liverpool nine days later. He arrived at the Western Front in France on 12 August 1916, and served as an infantryman in the 102nd Battalion (Regimental No. 703008). He survived the war, and afterwards wrote a book on the experiences of his battalion entitled From B.C. to Baisieux, being the Narrative History of the 102nd Canadian Infantry Battalion (5). He was a gifted writer, and this highly readable book is still in print (6).

His Canadian battalion took part in the final push on the Western Front in 1918 that was to take them into Germany. In between the Second Battle of Arras (26 August to 3 September 1918) and the Second Battle of Cambrai (8 October to 10 October 1918) he wrote the following poem for the battalion Christmas card (7):

DAWN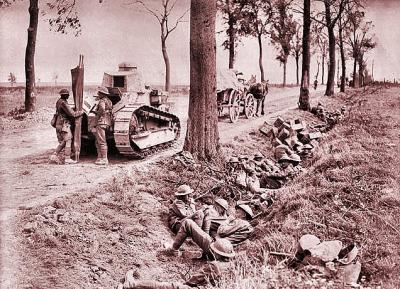 Canadian Soldiers on the Arras-Cambrai Road : September 1918
Dawn! And the sky grows brighter,
The darkness and mist disappear; -
Passed are the shadows of evening,
The things that we fought for grow clear;
And the doubts that have troubled the nations
Are stilled, as our triumph draws near.

Dawn! And the night shrinks cowering,
The Powers of Darkness decrease.
Soon o'er the ruins of Europe
Will hover the Angel of Peace;
And 'the lives that the struggle has parted
Will meet, when all warfare shall cease.

Dawn! And this Christmas morning
Brings hope to a suffering world.
E'en now from their tottering strongholds
The Forces of Evil are hurled;
And the nations are banded together
'Neath the banner of Freedom unfurled.


Although he went to France from Bramshott in Hampshire, and had two spells of leave while in France, there is no record of his visiting his family in England. However, after being demobilised he was in England again from 29 April 1919 before returning to Canada on the HMTS Mauretania on 31 May 1919. He seems to have had no settled home there, and gave his forwarding civilian address as being Box 721, GPO, Victoria. Of his later life in Canada nothing is known.

Leonard McLeod Gould died in Vancouver on 20 March 1928.
He was buried in Mountain View Cemetery in Vancouver, British Columbia, Canada (8).

His actual set of medals are shown on the right.


References
(1) Repton School Register: Supplement to 1910 Edition edited by M. Messiter (1922) pages 158 and 159.
(2) Alumni Cantabrigienses Part II 1752-1900 volume 3 (1947) page 102; Fifth Supplement to the London Gazette Issue 30792 dated 12 July 1918. The Croix de Guerre was awarded for an act of bravery against the enemy. The citations were not usually more specific. So there are no further details, unless noted by citation in the orders of the regiment.
(3) Attestation Form, Canadian Over-seas Expeditionary Force.
(4) War Records in the Canadian National Archives, copies of which were kindly provided by Floyd Low of Ottawa.
(5) canadiangreatwarproject.com LAC Reference RG150, Accession 1992-93, Box 3677-8.
(6) The text of his book is available online on the excellently designed and informative website www.102ndbattalioncef.ca
(7) Reprinted from the Battalion Christmas Card, 1918.
(8) Information kindly supplied by Patricia A. Rogers of Vancouver and Floyd Low of Ottawa.




---