Thomas Gould 1802-1869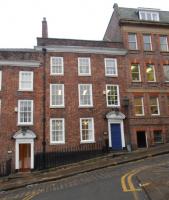 4 Paradise Square
Thomas Gould was born in Manchester in 1802.

He married Frances Maria Brookfield, daughter of Charles Brookfield of Sheffield, attorney at law.

The brother of Frances Maria Brookfield, the Reverend William Henry Brookfield, was a close friend of Tennyson and Arthur Hallam, whom he met at Cambridge, and also of Carlyle, Dickens and Thackeray. His son was the actor Charles Brookfield.

Thomas Gould was a solicitor in practice at 4 Paradise Square in Sheffield and living nearby at 32 Wilkinson Street. His wife and all their children were born in Sheffield.

The children of Thomas Gould and his wife Frances were:
Gould Signatures
Charles Gould 1832-1909
Joseph Gould 1834-1908
Marianne Gould 1836-1900
William Gould 1838-1886
Anna Gould born 1840
Thomas Gould 1841-1908
Francis Gould 1843-1902
Frances Maria Gould 1847-1898
John Gould 1849-1920


The photographs were kindly provided by Tony Parrini, direct descendant of Thomas Gould 1802-1869.

---