John Gould 1849-1920
John Gould in about 1909
John Gould was born on 16 January 1849 in Sheffield, the son of Thomas Gould 1802-1869 and his wife nee Frances Maria Brookfield 1805-1888.

He was educated at Repton School from May 1863 to July 1868, and then at Trinity College Cambridge. He graduated BA in 1872 and MA in 1875 (1).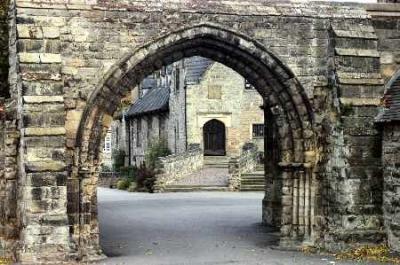 The Gate at Repton School
He was ordained deacon at Oxford in 1875 and priest at Lichfield in 1881.

Instead of entering the parochial ministry, however, he devoted his life to teaching, first at Reading Grammar School in 1872 and from 1878 at his old school Repton, where he was a housemaster from 1880 until 1912 (2).

He was unmarried.

When Pears Hall was built, commemorating a distinguished former headmaster, he donated its stained glass window.

The Reverend John Gould died suddenly at Repton on
18 November 1920. He was 72 years of age.


References
The picture of the the Reverend John Gould is from a photograph kindly provided by Paul Stevens, Archivist and Librarian, Repton School.
(1) Repton School Register: Supplement to 1910 Edition edited by M. Messiter (1922) pages ix and 23.
(2) For tributes to John Gould by Old Reptonians see Memories of John Gould 1849-1920.

---