Richard Goodwin Gould 1877-1953
Richard Goodwin Gould was born on 15 May 1877 at Longnor in Staffordshire, the son of Richard Goodwin Gould 1822-1892 and his wife nee Martha Wooddisse 1847-1922.

He had a distinguished career in the Royal Navy, which he entered aged fifteen. When the Census was taken in 1901 he was serving as a Gunner on HMS Ganges II at Harwich in Essex. In 1908 he was a gunner on HMS Lancaster.

By 1911 he was a Petty Officer First Class serving on the cruiser HMS Pioneer stationed in Malta. Among the captains he served under was Lord Louis Mountbatten on HMS Repulse in 1922.

Richard Goodwin Gould retired from the Royal Navy in 1942 with the rank of Commander.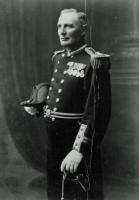 He had been awarded a medal by the King of Italy for services rendered on the occasion of the earthquake in southern Italy in December 1908, and was granted permission to wear it by King George V on 11 March 1912 (1). During the Second World War he served as a temporary officer at a Royal Navy Ordnance Depot.

In 1912 he married Lizzie Madge Verryck 1891-1969 at Dovercourt in Essex. She was born on 13 January 1891 in Liverpool, the daughter of Louis Augustine Verryck 1863-1942 and his wife nee Charlotte Therese Lloyd 1867-1956. She died on 31 January 1969 at Longnor.

Commander Richard Goodwin Gould RN died in 1953 at 44 Malcolm Street, Dunfermline, Fife, Scotland.


Reference
(1) The earthquake that struck Calabria and Sicily in southern Italy early on the morning of 28 December 1908 was the greatest recorded in European history. The earthquake and concurrent tsunami killed some 123,000 people, and the major cities of Messina and Reggio di Calabria were almost completely destroyed.
Ships from several navies including those of the Royal Navy went to assist the survivors. On 20 February 1910 the King of Italy issued a Royal Decree awarding a medal to all those who came to the rescue of the Italian people in the disaster. The role of the Royal Navy is described in the book Angels in Blue Jackets, the Navy at Messina by J.W. Wilson and R. Perkins (1985).

---