Elizabeth Gould 1892-1977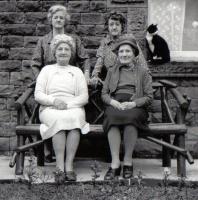 Elizabeth Gould was born on 1 February 1892 at Longnor in Staffordshire, the daughter of Richard Goodwin Gould 1822-1892 and his wife née Martha Wooddisse 1847-1922.

She was married to James Howe in 1916. He was born in about 1877 at Denton near Manchester, the son of Joseph Cooper Howe 1844-1920 and his wife née Mary Ann Woolfenden 1847-1925. The Howe family owned a hat making business in Lancashire.

They had three children including a son Richard Gould Howe 1917-1941, pilot sergeant in the 65th Squadron of the Royal Air Force, killed in action on 26 June 1941.

Her husband James Howe died on 23 June 1922 at Ansdell in Lancashire aged 45 years. His Will was proved at Manchester on 4 August 1922 (1).

Elizabeth Howe née Gould died in 1977 at Stockport in Cheshire aged 85 years.

---
In the group photograph Elizabeth Howe née Gould is seated front left. The others are her sister Margaret Mary Gould 1881-1970 (front right), her sister-in-law Lizzie Madge Gould née Verryck (back left) wife of Commander Richard Goodwin Gould 1877-1953, and (back right) Charlotte Alice Jackson née Verryck (sister of Lizzie Madge Gould).

The photograph was kindly provided by Peter and Eileen Bentley.

(1) "HOWE James of 34 Seymour-villas Denton Lancashire hat manufacturer died 23 June 1922 at 11 Buckingham-road Ansdell Lancashire Probate Manchester 4 August to Elizabeth Howe widow Joseph Wolfenden Howe hat manufacturer and Harry Howe bank clerk.
Effects £15684 0s 7d." England and Wales, National Probate Calendar (Index of Wills and Administrations) 1858-1966 (1922) page 254.

---