Martha Gould 1886-1950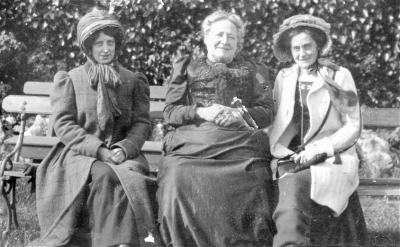 Martha Gould (left) with her mother and sister Margaret MaryGould
Martha Gould was born in 1886 at Longnor in Staffordshire, the daughter of Richard Goodwin Gould 1822-1892 and his wife nee Martha Wooddisse 1847-1922.

When the Census was taken in 1911 she was living at the Crewe and Harpur Arms Hotel in Longnor, assisting her widowed mother in running the business together with her sisters Margaret Mary Gould and Elizabeth Gould.

She was unmarried.

Martha Gould died on 7 June 1950 at Longnor aged 63 years. Her Will was proved on 10 November 1950 (1).

---
(1) "GOULD Martha of the Crew [sic] and Harpur Arms Hotel Longnor Staffordshire spinster died 7 June 1950 Probate Manchester 10 November to The Westminster Bank Limited. Effects £1788 4s 9d." England and Wales, National Probate Calendar (Index of Wills and Administrations) 1858-1966 (1950) page 694.

The group photograph was kindly provided by Eileen and Peter Bentley, and dates from about 1895.

---