Margaret Mary Gould 1881-1970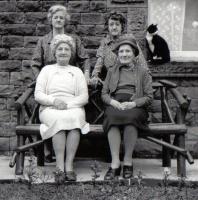 Margaret Mary Gould was born on 1 July 1881 at Longnor in Staffordshire, the daughter of Richard Goodwin Gould 1822-1892 and his wife née Martha Wooddisse 1847-1922.

After her mother died in 1922 she managed the Crewe and Harpur Arms Hotel in Longnor, together with her brother Frederic Thomas Gould until 1952.

They both had their own farms also.

As the elder unmarried daughter she received a letter of condolence in 1922 on the death of her mother from her mother's second cousin William Wooddisse 1866-1926.

Margaret Mary Gould died at Longnor on 15 November 1970.

---
In the photograph Margaret Mary Gould is seated front right. The others are her sister Elizabeth Howe née Gould (front left), her sister-in-law Lizzie Madge Gould née Verryck (back left) wife of Commander Richard Goodwin Gould 1877-1953 and (back right) Charlotte Alice Jackson née Verryck (sister of Lizzie Madge Gould). The photograph was kindly provided by Peter and Eileen Bentley.


---