Ernest Yates 1866-1947

Ernest Yates was born on 26 February 1866 at Chorlton-cum-Hardy in Manchester, the son of Samuel Yates 1831-1901 of Manchester and his wife née Mary McMullen 1832-1890. His father was a seed merchant trading in the city.

In 1887 Ernest Yates emigrated to New Zealand to join the business that his brother Arthur Yates had created. Arthur Yates then moved to Sydney, where the climate suited him better. His brother Ernest Yates managed the New Zealand business.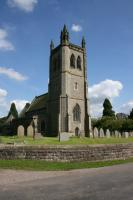 Osmaston Church
He returned to England on a visit in 1892, and proposed marriage to Mary Elizabeth Wright 1870-1949 (1). She was born on 13 December 1870, the daughter of Frank Wright 1842-1913 and sister of Edith Wright who was married to Percy Yates.

His proposal was not immediately accepted: "His chosen one, Miss Mary Wright got nervous about the huge step she was about to take into the unknown world and could not make the decision to sail with Ernest for the uncertain life in New Zealand. Disconsolate, he sailed alone for Auckland via the just opened Suez Canal. A stop off in Gibraltar was opportune. Awaiting him was a message via the newly installed telegraph system. "Please return to Manchester. I do want to marry you!" Leaving the ship, a hurried and arduous horse and coach journey through Spain, France and England reunited the couple together (2).

On 23 November 1892 they were married at Osmaston church near Ashbourne in Derbyshire, and in due time sailed for New Zealand, where they lived for the rest of their lives.

They had the following children:

Eric Wright Yates. He was born in 1896. He married Freda Ellen Phoebe Rossiter 1900-2002, and died on 4 July 1949.

Fred Wright Yates. He was born on 2 October 1897 in Auckland. He married Clarice Ross Walton 1901-1993, and died on 3 June 1945. They had a son Brian Ross Yates 1925-1956.

Enid Edith Yates. She was born in 1900 and died on 5 March 1902.

Ronald Wright Yates. He was born on 11 February 1905 and died in 1996.

Norman Wright Yates. He was born on 12 December 1907. He married Molly Seabrook 1908-2009, and died on 13 March 1989.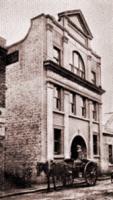 Auckland 1902
In about 1907 Ernest Yates and his brother decided to operate the family business separately: Arthur Yates in Australia and Ernest Yates in New Zealand. Both firms were named Arthur Yates & Co and maintained close links with their father's business in Manchester, eventually taken over by their eldest brother Harry Yates. Arthur Yates & Co Ltd was incorporated in New South Wales in 1910 and traded as a family company until 1951. Then it became Yates Seeds Ltd and in 2001 Yates Ltd, and was bought in 2003 by Orica Australia Pty Ltd for $45 million (3).

Ernest Yates was a man of vision and business acumen. "Amongst his many and varied ventures was the early introduction and sale of safe, bottled and pasteurised milk for city dwellers. Another 'first', was the novel importation of seed and the planting of Pinus Radiata on a large scale. A much acclaimed venture was on the Manukau Harbour, where he built a stop bank with horse teams and reclaimed 220 acres of sea, under which was highly fertile marine silt for farming. That reclamation continues today ... Most particularly though, Ernest Yates built a great seed business. He adhered to the principles of integrity, consideration for others in a commercial sense and highest quality with value to the customer. The firm, although it grew to be a large public company, continued to embody the best of the traditional 'family' business culture handed on by previous generations" (4).

Ernest Yates died in Auckland on 26 June 1947 aged 81 years.

His widow Mary Elizabeth Yates née Wright died in Auckland on 14 October 1949.


References
(1) Manchester Courier and Lancashire General Advertiser 23 and 29 November 1892 and 1 December 1892.
(2) Reminiscences of his grandson Philip Yates http://www.pioneer.co.nz/about-us/yates-family/ He was the son of Norman Yates 1907-1989, the fourth son of Ernest Yates.
(3) Article by Victor Crittenden in Australian Dictionary of Biography Supplementary Volume 2005; http://adb.anu.edu.au/biography/yates-arthur-13259
(4) Reminiscences of his grandson Philip Yates http://www.pioneer.co.nz/about-us/yates-family/ His grandson also wrote that "I am very proud of my grandfather Ernest Yates. He was a quiet, humble, widely read and gentlemanly man. As a young boy, my fondest and clearest memory is of sitting on his knee for hours and asking, 'tell me about the world Grandpa'. He was much loved by me and the other grandchildren."

---