Richard Henry Milne 1844-1889
Richard Henry Milne was born on 19 September 1844, the eldest son of Henry Milne 1815-1880 and his wife nee Susan Gould 1821-1905.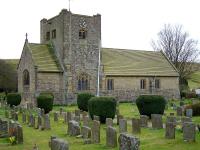 Goathland Church
He was educated at Marlborouigh School (1) and Brasenose College Oxford, where he graduated BA in 1868. He held several curacies from 1872, including that at St Mary Bishophill Senior in York, and became Vicar of Goathland in Yorkshire in 1883 (2).

When the 1881 Census was taken he was Curate of Whitby in Yorkshire.

He died on 6 December 1889 and was buried at Holme Hale in Norfolk, where there is a monumental inscription to his father but also mentioning him. It reads as follows:
"In Memory of Henry Milne M.A. 45 years Rector of this Parish [[actually 36 years]. Born June 20 1815. Died March 28 1880.
And of Susanna his wife. Born May 10 1821 Died Oct 27 1905.
Also Richard Henry Milne B.A. Eldest son of the above. For 6 Years Vicar of Goathland Yorkshire. Born Sept 19 1844 Died Dec 6 1889.
And of Frances Ellen [[sic] Milne. Eldest daughter of Henry and Susanna Milne. Born Dec 31 1848. Died April 12 1913".


References
(1) He was attending Marlborough School when the 1861 Census was taken.
(2) Alumni Oxonienses 1715-1886 Vol 3 page 960.

---