Lilian Capron Hollist 1869-1942

Hollist Arms
Lilian Capron Hollist was born in 1869 at Pashley House, Ticehurst in Sussex, the daughter of Edward Ommanney Capron Hollist and his wife nee Ellen Lydia Richarda Wetherell.

The family lived at Lodsworth House near Midhurst in West Sussex and 50 St. James's Square in London. Lilian Capron Hollist was educated at Cheltenham College in Gloucestershire.

On 26 August 1897 she was married at Lodsworth to Dr. Herbert Cooper Barnes, son of James and Eliza Barnes of Tiverton in Devon (1), a bank manager, born at Dilton Marah near Westbury in Wiltshire in 1826.

Herbert Cooper Barnes was born in 1869 at Dursley in Gloucestershire. He was a doctor, qualifying as a Member of the Royal College of Surgeons of England and Licentiate of the Royal College of Physicians London in 1892, and entered on the Medical Register in the same year. He was awarded the degree of Doctor of Medicine by the University of Durham in 1908 (2).

In 1901 Lilian Capron Barnes and her husband were living at Angel Street in Petworth, Sussex, but by 1911 they had moved to 47 Gloucester Place, Portman Square in London, where Dr. Barnes was in practice for the rest of his professional life.

They had two children, both born at Petworth: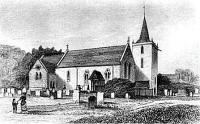 Easebourne Church
Audrey Hollist Barnes. She was born in 1902.

Cecil Hollist Barnes. He was born on 12 Nov 1903, and died in 1988 at Lodsworth. In August 1938 he married his cousin Susan Capron Hollist 1912-2006 in Chichester Cathedral.

Dr. Herbert Cooper Barnes died in London in 1918 aged only 49 years.
Lilian Capron Hollist-Barnes died in 1942 in London.

The burial place of the Capron and Hollist families is at Easebourne in Sussex (3).


References
(1) The Morning Post dated 30 August 1897; British Medical Journal 1897.
(2) The Medical Register 1913.
(3) In 2007 there was a proposal to move a number of their gravestones in Easebourne churchyard:
"A number of 18th century tombs and headstones due to be removed to make way for a new church path at Easebourne have been identified.They denote the burial places of members of the Capron and Hollist families, which were two great landowning dynasties in the area at that time.
Because of their age, the inscriptions have worn off most of the stones.
As the Observer reported last week, the church council at St Mary's, Easebourne, is proposing to move them in order to provide easier access to the building for the disabled. The vicar, the Rev. Derek Welsman, wanted to raise awareness of the plan in case the tombs and their headstones were important or had historical significance.
Carla Barnes, daughter-in-law of the last member of the intermarried Caprons and Hollists, who died last year, said this week: "At least six of the table tombs which will be affected are ours. There were multi-burials in each of them.They date back to the 1700s and one may even be that of Anthony Capron, who gave his name to Capron House in Midhurst. Two of them were restored at great expense when a tree fell across them in the storms of January 1990."
But Mrs Barnes said neither she nor her husband, Robin, would protest at the tombs being removed."They are of local historical interest but we are not going to object so long as the headstones remain in the churchyard somewhere," she said.
Midhurst & Petworth Observer dated 12 June 2007.

---