Elizabeth Carrington 1809-1873
Elizabeth Carrington
Born: 1809 Croxden, Staffordshire
Died: 1873 Ashbourne, Derbyshire
Father
William Carrington 1752-1840
Mother
Elizabeth Shaw 1764-1852
Siblings
Walter Carrington 1784–
Samuel Carrington 1787–1822
William Carrington 1789–1833
Thomas Carrington 1791–1868
George Carrington 1794–1876
Mary Carrington 1799-1875
John Carrington 1799–1875
Jane Carrington 1802–1876
Spouse
Thomas Smith 1799-1855
Children
William Carrington Smith 1831-
Thomas Carrington Smith 1833-
John Smith 1835-1912
George Sidney Smith 1840-
Arthur Sydney Smith 1843-
Mary Jane Smith 1845-1883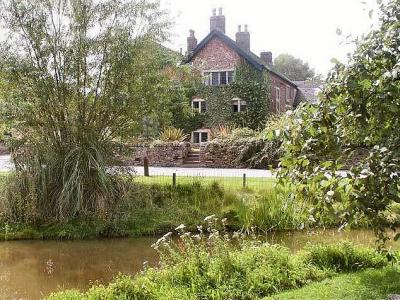 Blore Hall (1)
Elizabeth Carrington was born in 1809 at Croxden in Staffordshire, the daughter of William Carrington 1752-1840 and his wife née Elizabeth Shaw 1764-1852.

In 1829 she was married to Thomas Smith 1799-1855 of Blore Hall, Blore in Staffordshire. He was born at nearby Mayfield in Staffordshire on 4 January 1799, the son of William Smith 1765-1831 and his wife née Margaret Maskery 1776-1813.

By 1851 was farming 700 acres at Blore Hall, employing a governess and ten workers including two indoor female servants and two male farm labourers. With them also in 1851 was his widowed mother-in-law Elizabeth Carrington née Shaw 1764-1852 (born at Eaton, Doveridge parish in Derbyshire).

They had the following children:

William Carrington Smith. He was born in 1831 at Mayfield.

Thomas Carrington Smith. He was born in 1833 at Mayfield. He married Martha Carrington (born on 13 November at Croxden). Their daughter Lizzie Carrington Smith 1866-1942 was married to William George Yates 1863-1891, the brother of Ernest Yates 1866-1947 and Percy Yates 1873-1936 who married daughters of his sister Mary Jane Smith.

John Smith. He was born in 1835 at Blore. He farmed at The Spond, Alton in Staffordshire. He married Margaret Wood on 11 May 1864 at the parish church of Grendon near Atherstone in Warwickshire, and they had six children. She was born at Grendon in 1842, the daughter of Thomas Wood, farmer, and died in 1914 aged 72 years. John Smith died in 1912 aged 77 years.

George Sidney Smith. He was born in 1840.

Arthur Sydney Smith. He was born in 1843 at Blore. By 1869 he was living at Groby in Leicestershire. On 29 October 1869 he married his cousin Martha Parramore at Ilam church in Staffordshire (2). She was born in 1837 at Ilam, presumably at Throwley Hall, the only daughter of Francis Allen Parramore 1795-1862 of Throwley Hall in Staffordshire and his wife née Mary Carrington 1799-1875.

Mary Jane Smith 1845-1883. She was born in 1845 at Blore. In 1869 she was married to Frank Wright 1842-1913. She died in 1883 aged 38 years, and was buried at Osmaston.

Their father Thomas Smith died in 1855, and was buried at Blore.

In 1861 his widow Elizabeth Smith was living with her then unmarried farmer son John Smith at the Spond, Alton in Staffordshire. By 1871 she had moved to live with her unmarried farmer son William Carrington Smith at Town Head, Alton in Staffordshire.

She died in 1873, and was buried with her husband Thomas Smith at Blore where they share a gravestone.


References
(1) The photograph of Blore Hall as it appears at the present day is included by kind permission of the photographer Peter Cox, originally published on his website http://www.snapthepeaks.co.uk/
(2) "Marriages ... On the 29th ult., at Ilam Church, Staffordshire, by the Rev. James Bardsley, M.A., rector of St. Ann's, Manchester, Arthur Smith, Groby, Leicestershire, youngest son of the late Thomas Smith, Blore Hall, Staffordshire, to Martha, only daughter of the late Francis Allen Parramore, of Throwley Hall." Leicester Chronicle 16 October 1869.
The bride and bridegroom were first cousins: the mother of the bride was Mary Parramore née Mary Carrington 1799-1875, sister of the bridegroom's mother Elizabeth Smith née Elizabeth Carrington 1809-1873.

---