Throwley Hall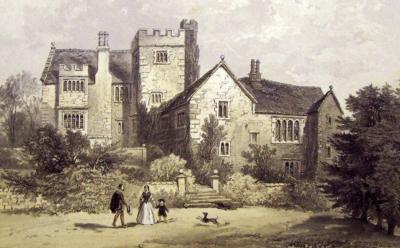 Throwley Hall in 1858
Throwley Hall, also known as Throwley Old Hall, stands in ruins on a commanding height in remote hill country overlooking the Manifold valley in Ilam parish, Staffordshire (1). There was formerly also a medieval manor house and adjoining village, traces of which remain as cultivation strips and other earthworks. Throwley village was however deserted between 1377 and 1524 (2).

Throwley was held by the Meverell family from 1208 (3). The hall was built in 1603, probably on the site of the medieval manor house. The estate passed to the Cromwell family when Elizabeth Meverell was married in 1626 to Thomas, Baron Cromwell, created Earl of Ardglass in 1645. When Ardglass died in 1687 Throwley was inherited by his daughter Elizabeth, wife of Edward Southwell. The hall was thereafter leased to tenants (4). With its surrounding estate it was advertised for sale by auction in 1789 (5).

The nearby Georgian farmhouse, also called Throwley Hall, was built in 1823. The great hall and much of the old house was demolished in 1830 (6). However in 1845 old Throwley Hall was still noted as being "a very ancient house of decent gentlemen of goodly living, equalling the best sort of gentlemen in the Shire" (7). Although partly ruinous the old Hall remained inhabited and the surrounding land farmed separately from the acreage of the newer Hall farm.

Thus in the nineteenth century there were two farms called Throwley Hall: the new farm built in 1823 and occupied from at least 1841 by the bachelor brothers John Phillips and George Phillips; and old Throwley Hall occupied from at least 1836 until 1877 by Francis Allen Parramore and after he died by his son William Thomas Parramore.

Francis Allen Parramore was farming there in 1841 when the Census was taken. By 1851 he was farming 280 acres and employing five labourers and two boys. In the household was a governess, two indoor female servants, and five unmarried farm labourers, namely a shepherd, waggoner, cowman, house boy and errand boy. In 1861 the farm was recorded as 283 acres, providing employment for two labourers. The household then comprised the three surviving children (all unmarried), one female house servant, a dairy maid, and the two unmarried male labourers, namely a groom and a carter.

Francis Allen Parramore died in 1862, and his son William Thomas Parramore took over the farm. His widow seems to have continued living there until 1875 (8).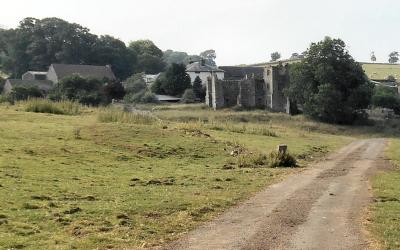 Throwley Hall Farm and Old Hall Farm Ruins 2013
Throwley Hall 2013
Throwley Hall 1898
The family of William Thomas Parramore was the last to reside at old Throwley Hall. In 1877 they emigrated to Australia, and the Hall was abandoned as a farmhouse.

Its acreage was combined with that of the newer Throwley Hall farm (9).

However it may have been used, at least until the 1890s, as sleeping accommodation for domestic servants at the newer farm (10).

In 1921 the roof was removed, and the hall fell into its present completely ruinous condition.

The ruins of Throwley Old hall are now a scheduled ancient monument, while remaining private property.


References and Notes
(1) Throwley is pronounced with the first syllable rhyming with "now", not with "low".
(2) The medieval manor house was evidently surrounded by a deer park bounded by a high drystone wall. The remains of that wall still exist as field boundaries. The medieval village had at least nine households, and was evidently deserted between 1377 and 1524 : An Architectural Analysis of Throwley Old Hall, Ilam Staffordshire Archaeological and Historical Society Transactions volume 39 R.A. Meeson (2001) pages 28 to 44. This masterly and authoritative account gives a detailed description of the successive phases of building at Throwley Hall, and a succinct account of its history, with many informative diagrams and photographs.
(3) In 1208 Oliver Meverell gave three marks (£2) to William Bacon for the remittance of all claim over 24 bovates of land in Throwley. Thereafter the estate passed from father to son until Elizabeth Meverell inherited the land from her father Thomas on his death in 1347. Between 1349 and 1353 Elizabeth married Sir Nicholas de Stafford who thereby secured Throwley as his chief seat. Nine times a Staffordshire member of parliament and knighted by the Black Prince, Sir Nicholas died without issue, so when Elizabeth died in 1405 the estate returned to the Meverell family : J. Sleigh, A History of the Ancient Parish of Leek in Staffordshire J. Sleigh (1883) page 56; Staffordshire Historical Collections Staffordshire Record Society volume 1917-1918 (1919) pages 118-119; Staffordshire Historical Collections Staffordshire Record Society volume 15 (1894) page 77.
(4) William Salt MSS 360/iii : William Salt Library, Stafford ; Survey and excavation in the Manifold Valley F. Cleverdon Staffordshire Archaeological Studies volume 7 (1996) pages 25-26. It was reported in 1779 that "The House is Large enough, but very Awkward, would cost a great deal of Money to make it tolerably comfortable ... the Old House in a very ruinous state, and if Rents are advanced to my Valuation, the Tenants will certainly expect some alterations to be made, but there is some little Timber on the Estate tho' I doubt it's being equal to the Repairs" : William Salt MSS 120/40 : William Salt Library, Stafford.
(5) The date of the auction was 5 September in that year. The acreage of the estate was then stated to be 1430 acres 1 rood 34 perches, with 93 acres of woodland not let to tenants but "in hand" by the owner. There were seven tenants, all tenants at will, namely Thomas Edensor, Widow Fowler, Thomas Hodgkinson, Thomas Oakden, John Dawson, Joseph Dawson and Elizabeth Blore. Derby Mercury 30 July and 20 August 1789. The auction was apparently unsuccessful, as a subsequent advertisement for the sale of the property by private contract appeared in the Derby Mercury newspaper on 24 September 1789.
(6) British Listed Buildings (Staffordshire) Grade II* listed 2 May 1953: English Heritage Building ID 275187.
(7) The Baronial Halls, Picturesque Edifices, and Ancient Churches of England Samuel Carter Hall volume 2 (1846).
(8) When the 1871 Census was taken Mary Parramore was only visiting the family of a Methodist minister living at 21 Rutland Street in Leicester, and presumably continued living at Throwley Hall until she died in 1875 at Market Bosworth in Leicestershire aged 75 years.
(9) The combined acreage was recorded as being 580 acres in the 1881 Census Return. The separate acreages in 1871 had been 246 acres (the newer Throwley Hall) and 338 acres (the old Throwley Hall).
(10) In the 1970s May Bailey of Milldale in Staffordshire told how she had been in service at Throwley Hall with Ellen Bennington Gould as young girls, and that they were afraid in the ghostly atmosphere of the old building at night. Ellen Bennington Gould was born in 1878.

---