John Wright 1791-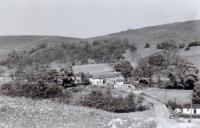 Crowdecote
John Wright was born at Crowdecote in Derbyshire in 1791, the son of John Wright 1752-1840 a farmer and his wife nee Elizabeth Adams 1761-1844.

Crowdecote is a hamlet on the Derbyshire side of the river Dove in Hartington parish, but close to Longnor across the river in Staffordshire. It lies about two miles upstream from Pilsbury Grange.

He married Elizabeth (maiden surname unknown).

She was born in about 1801 and died before 1851 (1).


Atlow Church
They had the following children, all born in Atlow in Derbyshire and baptised there:

Christiana Wright. She was born in 1819.

John Wright. He was born in 1820.

William Wright. He was born in 1822.

Francis Wright 1825-1900. He entered the tea trade in Manchester and became a partner of Nathaniel Gould 1824-1874, the father of Nat Gould.

Elizabeth Wright. She was born in 1829.

Their father John Wright died in 1840 aged 87 years, and was buried at Bradbourne on 22 July 1840.



Note
(1) In the !851 Census return her husband is recorded as being a widower.

---