Millicent Wright 1805-1826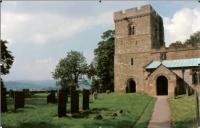 Bradbourne Church
Millicent Wright was born in Bradbourne in Derbyshire on 21 April 1805, the daughter of John Wright 1752-1840 a farmer and his wife nee Elizabeth Adams 1761-1844.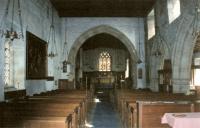 She was baptised at Bradbourne on 17 November 1805.

On 19 May 1825 she was married by licence at Bradbourne to William Cantrell. He was baptised on 10 December 1800 at Mickleover in Derbyshire, and became a surgeon at Wirksworth in Derbyshire (1).

They lived at Wirksworth and had a son William Cantrell who died on 21 March 1826 aged only five days.

His mother Millicent Cantrell died eight days later on 29 March 1826, and was buried at Kniveton in Derbyshire on 3 April 1826 (2).

Her widower William Cantrell married Elizabeth Frost of Calver on 8 July 1829 at Bakewell in Derbyshire.

They had a son Matthew Henry Cantrell (1830-1915) born at Calver on 11 September 1830. He lived at Winster in Derbyshire.

Elizabeth Cantrell died in 1873 at Wirksworth aged 63 years.

Her husband William Cantrell died in 1876.


References
(1) Ince Pedigrees 1600-1860. This manuscript book, formerly in the Chatsworth Library in Derbyshire (to which it probably came by purchase from the sale of the Bateman collections), was given by the Duke of Devonshire to Derby Library. It was compiled from 1824 to 1860 by Thomas Norris Ince 1799-1860, a Wirksworth solicitor and genealogist. He compiled the book from Abstracts of Title, Wills, Deeds and other documents, Church and Churchyard Notes, Bible entries, Court Rolls, and from family information given to him personally. It contains 1,000 pedigrees of families from the Wirksworth area and gives details of 20,000 people among its 484 pages. The manuscript has been expertly and most usefully transcribed by John Palmer, Kathryn Farrell and Sonia Addis-Smith. http://www.wirksworth.org.uk/INCE.htm

(2) In the Kniveton parish register she is recorded as "Melicent" and as aged 23 years. However the Bradbourne register records her name as Millicent and her birth on 21 April 1805. Also the Kniveton register records the burial of her son William Cantrell as taking place on 24 March 1826 and his age as being seven days. The dates given in the Kniveton register conflict with those given in the Bradbourne register and in the Ince Pedigrees personally given to Thomas Ince by William Cantrell himself, and so the Kniveton register entries seem to be incorrect.

---