James Bateman 1749-1824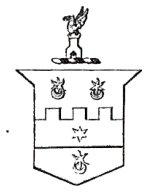 Bateman Arms
James Bateman was born in 1749, the son of John Bateman 1719-1783 and his wife nee Elizabeth Braithwaite. His father John Bateman 1719-1783 was the son of Thomas Bateman of Tolson Hall in Westmoreland and his wife nee Isabella Redman.

James Bateman moved south, and built Islington House, a mansion in Salford (1). By 1773 he was established as an ironmonger in Deansgate, Manchester. By 1781 he was trading also in Salford. In the following year he advertised his newly erected iron foundry where he had begun to manufacture "a great Variety" of ovens, grates, hearths, pipes, weights, pots and pans for domestic and industrial use, and iron wheels, cogs, bushes, pinions, shafts, screws, spindles, furnace doors and bars, as well as garden rollers, gates, railings, "and all other Castings to Patterns or Dimensions, with many Articles quite new in the Cast Iron Way" (2).

By 1788 James Bateman & Company were still ironmongers in Deansgate, but had iron foundries at Water Street in Salford and in Dukinfield in Cheshire, and iron forges at Dukinfield and Collyhurst in Manchester. William Sherratt 1754-1822 joined as a partner. In 1791 Bateman & Sherratt set up the Salford Iron Works, and became one of the largest manufacturers of cast iron products and stationary steam engines, outselling even Boulton & Watt of Birmingham. They manufactured the first marine steam engine. Their machines powered the cotton mills that were rapidly making Manchester the world's first industrial city.

James Bateman made a fortune and retired to Knypersley Hall in Staffordshire (3). He went on to buy the nearby vicarage called The Grange, which together with Woodhouse Farm and Poolfields formed the Biddulph estate. The farmhouse was demolished and replaced by the large mansion called Biddulph Grange (4).

The firm of Bateman & Sherratt continued under the management of William Sherratt, and later by his son Thomas. However when Thomas Sherratt died in 1837 his trustees sold the business to Mather & Platt, who continued manufacturing at the Salford Iron Works site until 1938 (5).

James Bateman married Elizabeth Braithwaite (6). She was the daughter of Edward Braithwaite of Carlinghill, Westmoreland.

They had the following children:

John Bateman 1782-1858. He married Elizabeth Holt on 29 May 1810 at Bury in Lancashire. She was born at Bury in 1782, the daughter of William Holt of Redivals in Lancashire (7).

Thomas Bateman 1784-1800.

Elizabeth Bateman. She was married 0n 21 January 1802 to William Thorpe of York, cotton merchant (8).

Margaret Bateman. She was married on 7 October 1806 to Obadiah Paul Wathen of Woodchester in Gloucestershire, the son of Sir Samuel Wathen and his wife nee Margaret Peach, the daughter of Benjamin Peach of Westbury in Wiltshire (9).

Susan Bateman 1795-1828. She was married in 1817 in Manchester to Richard Gould 1792-1868 of Willow Bank in Broughton, Salford in Lancashire. At the time of their marriage Susan Bateman was living at Islington House in Salford, which was then the family home (10).

James Bateman died at Islington House in Salford on 2 April 1824 (11), and was buried at St. Stephen's Church, Salford on 8 April 1824 aged 75 years.


References
(1) Islington House was put up for sale by auction when James Bateman died: Manchester Guardian 18 and 25 December 1824. The household furniture and effects were put up for sale by auction early in the following year: Manchester Guardian 19 March 1825. The house itself was then for sale by private treaty.
(2) Manchester Mercury dated 1 January 1782, quoted in Science and Technology in the Industrial Revolution by A.E. Musson and E. Robinson (1969) page 450. His new foundry was probably that established in Water Street, Salford.
(3) The date of the retirement of James Bateman is probably 31 December 1821 when his partnership with Christopher Wilson, William Dillworth Crewdson and David Huddlestone, as bankers in Kendal, was dissolved by mutual consent. Notice of the dissolution dated 2 January 1822: The London Gazette Issue 17783 published 19 January 1822 page 107.
James Bateman purchased Knypersley Hall from Sir Nigel Gresley for £37,000 in 1809. The top floor was removed In 1858 and the house reduced in siza. It is now divided into apartments: Lost Houses of North Staffordshire C. Walton and L. Porter (2010) page 98.
However James Bateman did not live exclusively at Knypersley in his retirement, and died at his Salford home, Islington House.
(4) Its elaborate and extensive gardens are now owned by the National Trust and the house itself is divided into apartments: Lost Houses of North Staffordshire C. Walton and L. Porter (2010) page 38.
(5) The Salford Iron Works site was acquired by Threlfalls Brewery, which continued operating there until taken over by Whitbreads in 1999 and closed dowm. The site is now an urban business complex.
(6) Boyd's Inhabitants of London: Boyd's Family Units Ref. No. 199. MS Northern Pedigrees I.18.
(7) Lancaster Gazette and General Advertiser 2 June 1810; The Monthly Magazine, or British Register volume 29 Sir R. Philips (1810) page 606.
(8) The Morning Post and Gazetteer 2 February 1802; The Monthly Magazine, or British Register volume 29 Sir R. Philips (1810) pages 139 and 140.
(9) Lancaster Gazette and General Advertiser 18 October 1806: A Genealogical and Heraldic Dictionary of the Landed Gentry of Great Britain Sir B. Burke (1852) volume II page 1532.
(10) The Monthly Magazine, or British Register volume 44 Part II (1817) page 570; Boyd's Inhabitants of London: Boyd's Family Units Ref. No. 199. MS Northern Pedigrees I.18.
(11) "Died. On Friday last, at Islington House, Salford, aged 75, James Bateman, Esq. formerly of the firm of Bateman and Sherratts, iron-founders; much lamented by his relatives and friends" Manchester Guardian 10 April 1824; "[[Died] In the 76th year of his age, James Bateman, esq. of Islington House, Manchester" The Observer 18 and 19 April 1824.

---