Charles Boys 1809-1898
Charles Boys
Born: 1809 Kensington, London
Died: 1898 Wing, Rutland
Father
Charles Worsley Boys 1779–1809
Mother
Mary Vulliamy 1781-1865
Siblings
Mary Jane Boys 1807–1860
Spouse
Caroline Goodrich Dobbie 1816-1876
Children
Mary Goodrich Boys 1840–1863
Virginia Boys 1842–1907
Herbert Arnold Boys 1844–1926
Frederick Worsley Boys 1846–1868
Justin William Boys 1848–1924
Caroline Boys 1852-1950
Charles Vernon Boys 1855–1944
Lucy Boys 1858–1925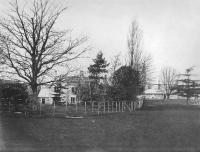 Wing Rectory and Church
Charles Boys was born on 25 March 1809 at Kensington in London, the son of Charles Worsley Boys 1779–1809 and his wife née Mary Vulliamy 1781-1865.

He was educated at Charterhouse and Merton College, Oxford. Matriculating on 9 March 1829, he graduated Bachelor of Arts in 1832 and Master of Arts in 1836 (1).

He was ordained deacon on 14 June 1835 and priest in the following December. He was Vicar of Shelford in Essex from 1835 until 1839, when he was appointed to the Rectory of Wing in Rutland.

On 27 August 1839 he married Caroline Goodrich Dobbie 1816-1876 at Westminster in London. She was the daughter of Captain William Hugh Dobbie 1771–1830 and his wife née Agatha Shedden Goodrich 1784–1841.

They had the following children, all born at Wing:

Mary Goodrich Boys. She was born in 1840 and died in 1863.

Virginia Boys. She was born in 1842 and died in 1907. She was married to Ogle Richard Wintle 1834-1875.

Herbert Arnold Boys. He was born in 1844 and died in 1926. He married first Olive Constance Venables 1853-1889 and secondly Susanna Caroline Watson 1872-1950.

Frederick Worsley Boys. He was born in 1846 and died in 1868.

Justin William Boys. He was born in 1848 and died in 1924. He married Bertha Stuart Morphew 1860-1939.

Caroline Boys 1852-1950. She was born in 1852 and died in 1950 (2). In 1871 she was married to the Reverend Charles Cadwallader Egerton 1831-1907.

Sir Charles Vernon Boys. He was born in 1855 and died in 1944. He married Marion Amelia Pollock. He became a distinguished physicist, and was elected Fellow of the Royal Society in 1888. For his services to science he was knighted in 1935.

Lucy Boys. She was born in 1858 and died on 16 July 1925 at St Mary Bourne, Andover in Hampshire. She was married to Dr Miles Miley 1857-1939.

Their father the Reverend Charles Boys died at Wing Rectory on 14 June 1898 aged 89 years, and was buried on 18 June 1898 at Wing.

His widow Caroline Boys had predeceased him on 29 November 1876 aged 60 years.


References
(1) Alumni Oxonienses 1715-1886 A-D (1888) page 147.
(2) "EGERTON Caroline of Ivywood Redenhall Norfolk widow died 6 October 1950 at Chevington House Bungay Suffolk Probate Ipswich 6 January [1951] to Lionel Hastings Vulliamy and David Michael Hastings Vulliamy solicitors. Effects £5042 10s 6d." National Probate Calendar (Index of Wills and Administrations) 1858-1966 (1950) page 69. Lionel Hastings Vulliamy was her second cousin, and David Michael Hastings Vulliamy was his son.

The photographs on this page were kindly provided by Patrick Graham.

---