Sable Star
1937 First Edition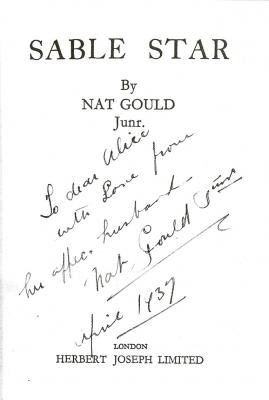 1937 First Edition
This novel was written by Sidney Nathaniel Gould, the eldest son of Nat Gould under the
pen-name "Nat Gould Junior".

The book was first published in 1937 by Herbert Joseph Ltd. Nat Gould's last publisher and close friend John Long had died in the previous year.

The plot of Sable Star is rather awkwardly constructed, with a prologue that does not quite fit with the following story. The book reads like a writer's early novel.

The story flashes about between locations. The many characters are confusing and all pure cardboard. A fresh person appears right at the end, only to die melodramatically - in time for a newly married bride to place her bouquet on his grave. Much turns on an improbable secret tunnel, and there is a great deal of dialogue that hinders the pace of the plot.

Nevertheless the novel is a good yarn and a real page turner. The descriptive scenes are vivid, set in London and the Berkshire countryside. Particularly memorable is the rural setting, which the author knew well as it was the home of his wife and family during the First World War.

1956 Mellifont Reprint
Sidney Nathaniel Gould clearly had the talent to write really good novels. No more by "Nat Gould Junior" are known, however, although he may have had a hand in the production of at least some of the posthumously published books of his father Nat Gould. (TA)

A copy of the first edition was presented by Sidney Nathaniel Gould to his wife inscribed
"To dear Alice with Love from her affec. husband - Nat Gould Junr. April 1937". It is now in the possession of their granddaughter.

The recipient was Alice Gould nee Alice Ethel Butler, whom the author had married at Staines Registry Office on 9 October 1916, just one month before joining the Army. (He had previously served in the Royal Navy from 1915 to 1916.) She was the daughter of Henry and Emily Butler.

Sable Star was reprinted in 1956 by Mellifont Press.
The front cover of the reprinted edition shows the horse in the wrong colour - Sable Star was black!

---