Pilsbury Grange Letter 5
Letter 5 of the Letters from Pilsbury Grange is dated 8 August 1843, and was written by Margaret Gould to her son Richard Goodwin Gould.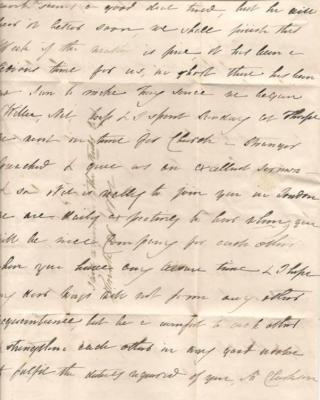 Transcription
[[The address on the cover is :]

Mr R G Gould
Mr Batchelors
113 New Bond Street
London

[[First page]

Pilsbury August 8th/43

My dear Dick

I flatter myself you will be pleased to hear how we are going on - Nat & Mary with Miss Gilman met dear Willie at Ashbourn only on Friday last, he is very well & I hope will enjoy himself but are fortunately having very fine day we are so exceedingly busy in the hay that there is no alternative but work they are much [[?] - it is a Month tomorrow since we began our hay – we have finished at the top & have only the [[cott?] Meadow to mow at the bottom, all hands are [[aloft?] this afternoon gathering the new [[leys?] he poor Willie has not been used to such

[[next page]

work and seems a good deal tired but he will bear it better soon, we shall finish this week if the weather is fine, it has been a tedious time for us, in short we have seen no sun to make hay since we begun Willie, Nat, Bess & I spent Sunday at Thorpe we went in time for Church a Stranger preached & gave us an excellent service - & so Nat is really to join you in London we are daily expecting to hear when, you will be nice Company for each other when you have any leisure time & I hope my dear Boys will not form any other acquaintance but be a comfort to each other and strengthen every good resolve & fulfil the duties required of you, Mr Clarkson

[[next page]

the gentleman Nat is going to & who Mr Dakin [[is?] going to join in himself has a shop in the Strand & one in Fleet Street two very busy streets he is not a Grocer, they call them Italian Houses Mrs Dakin told me Mr Clarkson is the most [[punctilious?] conscientious nicest Man she ever met with, I hope my dear Boys will continue to deserve the protection of a kind Providence by a strict performance of that dealing in their several stations & always bear in mind you have nothing but your good name to trust to for your daily bread & that a Character once lost is never regained – I find Frank [[Prince?] was expected at the [?] this day, I suppose we shall see him likely next week we shall be very glad to see them I expect Ellen Tomkinson will soon leave us soon she is in treaty with a lady at [[?] and seems very likely to be successful you know

[[bottom of the cover]

they have had a disappointment from [[?] so beg my dear Boy you will call on dear Mrs [[Ward?] immediately if you have not already done as we expect her at Pilsbury soon – have you heard of the death of old Mr Williams of Bakewell

[[top of the cover]

Mr Taylor has taken his Wife & five of his Children to the sea he returns on Thursday – Nat saw John Gilbert at Bakewell on Saturday says he treats for a House in Manchester Nat desires me to say he [[would?] expected a letter from you before now all join in much love your affectionate Mother


Note
This letter was written by Margaret Gould, mother of the recipient Richard Goodwin Gould, on 8 August 1843. It follows closely on the letter written on 15 July 1843 to the same recipient by his brother Nathaniel. The letter was posted at Leek on the next day, and received in London on 10th August 1843. Margaret Gould died on 15 November in the following year. As in her earlier letter dated 15 July 1843, she was anxious for the welfare of her son already working in London and also of her son Nathaniel when he too went to work there. She was clearly well aware of the wayward and adventurous streak in the Gould men!

A vivid picture of life at Pilsbury Grange in the 1840s emerges, mirroring what was happening in England generally. The whole country was in dire straits. The post-Waterloo slump had been compounded by appalling weather resulting in disastrous harvests. 1816 was "the year without a summer" when the sun was obscured by thick clouds from a colossal volcanic eruption in the East Indies. People in English towns were starving because the Corn Laws banned the import of affordable grain. Although arable farmers in more prosperous shires profited from high prices of their home-grown corn, farms such as Pilsbury were suffering because they grew little arable crops and were mainly pastoral. Many country people emigrated.

At Pilsbury in 1843 the family were struggling with the harvest in bad weather, and had pressed "Willie" into service. He was Margaret's son William who emigrated to Australia seven years later. (Although his mother seems to have called him "Willie" he was called "Will" by his brothers.)

Margaret Gould had been widowed when her husband Edmund Gould died in 1833, and the farm was being run mainly by her son Gilbert. The occasional services of her other sons Nathaniel (eventually the father of Nat Gould the novelist) and Richard were clearly invaluable. Her letter presents a very different picture of life at Pilsbury from the prosperous sheep farming days in the 1600s and the "high farming" of the 1700s.

It is interesting that Margaret Gould refers to her son Nat's meeting a John Gilbert in Bakewell. His identity is unknown. By "treating" for a house in Manchester she means that he was applying for a job there. (The Pilsbury servant girl Ellen Tomkinson was "in treaty" for another position.) The Gilbert and Gould families were closely interlinked by marriage. In the nineteenth century there were Gilberts in Lancashire trading as prosperous grocers. In 1861 a Thomas Gilbert aged 35 was a grocer in Crosby (near Liverpool) employing 13 men and 3 boys, and in 1871 he was described as being a Master Grocer there employing 24 persons. Crosby is mentioned by J.H. Gilbert, the writer of two other letters in this collection [[Pilsbury Grange Letter 6 and Pilsbury Grange Letter 7]. Evidently these Gilberts were friends (or even distant relatives) of the Pilsbury Goulds. It is also interesting that Gilbert had become adopted by the family as a forename with the birth of Gilbert Gould in 1821.

Margaret Gould seems to have been quite familiar with London, knowing that the Strand and Fleet Street were busy thoroughfares. It is also interesting that the Gould family were friends of such eminent people as the Dakins. Sir Thomas Dakin was born in Knutsford in 1808, and educated there and at London University. He had wide-ranging commercial interests in London, where he promoted scientific and technical education . He became a Freeman of the City of London in 1836, an Alderman in 1861, Sheriff in 1864 and Lord Mayor of London in 1869. He was elected a Member of Parliament in 1865, and knighted in 1872. He died at his London home in 1889.

---