George Wright 1836-1921
George & Ellen Wright 1917
George Wright was born on 11 March 1836, the son of William Wright 1796-1882 of Bradbourne and his wife née Elizabeth Gould 1802-1843. He was baptised at Bradbourne on 13 March 1836.

He emigrated to the United States of America, arriving on 2 December 1852 after a voyage of thirteen days with eight dollars in his pocket. He went to Noble township, Shelby County in Indiana, to the home of his brother John Wright.

George Wright settled in Noble and started work on a farm. Until then his knowledge of farming was limited to milking cows, and had never before seen a field of corn. Determined to succeed, he learned rapidly, and was soon able to buy a 100 acre farm. When the Federal Census was taken in 1860 his real estate was worth $4,000 and his personal estate $600. He bought more land in Noble and Liberty townships, and eventually owned about 1,000 acres.

On 2 August 1855 he married Mary E. Avery. She was born on 18 September 1836 in Indiana, the daughter of English immigrant parents, George Avery and his wife née Sophia Bartley. They had the following children:

Frank Carleton Wright. He was born on 20 May 1856 and died in 1898.

Albert William Wright. He was born on 16 October 1861 and died in 1956.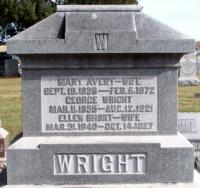 Sophia Elizabeth Wright. She was born on 3 August 1864. She was married to Joshua Samuel Alley, and died in 1941.

Their mother Mary Wright nee Avery died on 6 February 1872.

On 3 June 1873 George Wright married Ellen Short. She was born in Ohio on 31 March 1840, the daughter of English immigrant parents Thomas K. Short and Sarah Allen. They had no children.

In May 1911, when he was a party to the Hanson Mount Agreement, he was living at Waldron, Shelby County, Indiana.

George Wright died on 12 August 1921 aged 85 years at his home in Waldron, after an illness of several weeks, and was buried at Waldron, where there is a gravestone inscribed to his memory.

---