Anne Gould 1709-1797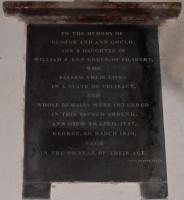 Anne Gould was born in 1709, the daughter of William Gould 1677-1772 and his wife Anne Morewood 1679-1749 of Pilsbury Grange in Hartington parish, Derbyshire.

She was baptised at Hartington on 15 February 1709 (modern reckoning).

Anne Gould was unmarried and seems to have lived in Manchester.

She died on 20 April 1797, was buried at Hartington on 23 April 1797, where there is a monument inside the church to her and her brother George Gould 1720-1810.


---