William Gould 1738-1787
William Gould 1738-1787 was the only surviving son of William Gould 1704-1757 and his first wife Dorothy Beresford.

Known as "Gentleman Gould", he inherited the bulk of the family property, including the lands at Staden and Buxton Green in Derbyshire. He lived at Ashbourne in Derbyshire.

The Staden estate had been possessed by his grandmother Anne Morewood 1679-1749 and the Buxton Green estate was formerly the property of his mother Dorothy Gould nee Beresford.

He was twice married, but had no surviving children. His daughters by Mary Hill died under age (1).

William Gould 1738-1787 died on 24 December 1787 aged 48 years (2).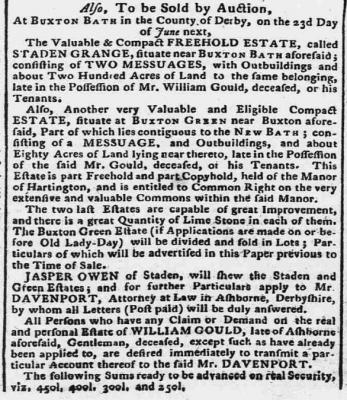 Derby Mercury 13 March 1788
In his Will he directed his executors, namely his godson Thomas Blore of Derby, his "brother-in-law" [actually his half-brother] Thomas Gould of Ashbourne, and his cousin William Gould of Hanson Grange, to sell all his inherited estates. The properties at Staden and Buxton Green were purchased by the Duke of Devonshire.

Widowed Mary Gould nee Hill remarried on 16 February 1789. Her second husband was John Davenport, an attorney of Ashbourne (3).

---
(1) Bateman MS 1 : Devonshire Collections at Chatsworth House.
(2) "On Monday Morning died, at his House in Ashborne, in this County, (after a long and severe illness, which he sustained with great Fortitude) William Gould of that Place, Gent. in the 49th Year of his Age, a Gentleman much esteemed by his Friends and Acquaintance." Derby Mercury 26 December 1787.
(3) "On Monday last was married at Ashborne in this county, Mr. Davenport, Attorney at Law, to Mrs. Gould, widow of the late William Gould, of that place, Gent." Derby Mercury 19 February 1789.

---