Life in Bedfont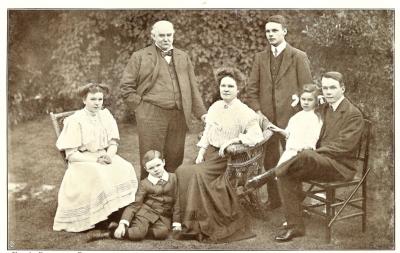 The family at Newhaven in 1908 (1)
Nat Gould settled down with his family into the village life of Bedfont. He made friends with the old Vicar (2), and became interested in local history, writing about it with his own distinctive slant. Horses and racing were never very far from the forefront in Nat's writing! (3).

He began steadily writing fiction, producing an average of four or five novels a year, as well as an annual of stories for several years from 1900. He continued to write articles for the press, and was ready to furnish particulars of what he had done and was planning to editors (4).

Although very few of his letters are known to have survived, he kept up a correspondence both on matters that concerned him in England and also with his Australian friend E.J. Brady, the writer and political activist (5). The three surviving letters show how he continued to identify with fellow journalists, and tried to help writers seeking to break into the difficult and overcrowded London market. He vigorously supported his fellow writer and journalist George Robert Sims 1847-1922 in his campaign on the Beck Case (6).

Nat Gould enjoyed the theatre. On one occasion at the theatre he and his family witnessed a performance by Sir Henry Irving which had a remarkable sequel. Nat Gould had been criticised for writing a novel in which a famous actor died after appearing in a stage performance, which was remarkably similar to the actual death of the actor Sir Henry Irving. It transpired however that Nat had actually finished his manuscript in May 1905 whereas Irving did not die until the following October, so that any accusation of bad taste was unjustified. Nat defended himself robustly, taking pride in a letter he had received during May from Sir Henry himself (7).

He began to travel widely in western Europe, and wrote descriptions of foreign places that he visited. The tours included visits to race courses and racing stables. On one occasion, in 1902, he even took Jack Noud, a young Australian jockey with him (8). Although having some historic value now, Nat Gould was not at his best as a travel writer. Yet some gems linger delightfully in the mind. The Neapolitan male "can exist on the smell of a black cigar and the more pungent garlic" and "The canals of Bruges wanted a good clean up when I was there" (9).

His long experience with horses led Nat Gould into a remarkable business venture. He produced an embrocation called Homovet, so named as suitable for application on man and beast, and formed a company to market the product. Presumably Nat Gould (or more likely someone else) made up this concoction at Newhaven. It was not exactly a world-beater. He was no salesman, and knew it. It was the same with his writing. In 1913 he admitted that "There is always a business end to a tack, and I prefer the publisher to sit on that end and give me the smooth. It makes writing so much easier. I fancy there are worries attached to the publisher's end of the tack that authors know little about" (10). By then he had given over the Homovet trade entirely for his son Sidney Nathaniel Gould to handle, on the clear understanding that he was no longer to be troubled with it.

In 1906 Nat Gould had a memorable encounter with the local police, when he was arrested for being intoxicated in the Station Tavern in Bedfont Lane. The case was brought before Feltham Magistrates Court, where acting quickly on an anonymous tip-off, the police were determined to secure a conviction. However Nat vigorously defended himself, and was acquitted with jubilant public acclamation (11).

Nat Gould was a political conservative, and a staunch upholder of the British Empire. He admired Australia, yet his heart was always in the Derbyshire countryside that he knew and loved from his youth. He re-visited Pilsbury Grange, and lamented on the sorry state into which it had declined. "Pilsbury Grange in the seventies was a picture of beauty. It has of late years fallen from its estate, and become a forlorn spot; the garden neglected, the house uncared for; rough hands have laid themselves heavily on many a beauty-spot, marring it beyond recognition. There is no Gould there now - " (12).

Nat Gould was described by the English-born Australian writer Fred J. Broomfield (1860-1941), who knew him in Sydney, as "a compact, active man, not very tall, natty in dress, modest in demeanour, with the brightest dark eyes imaginable" (13). In later life Nat Gould was a short, tubby, jovial man who sported a twirling moustache (14). Even as early as 1888 Nat Gould was already described by his colleagues on the Sydney Referee (on the occasion of a staff picnic when he won a surprise victory in a handicap sprint) as having "attained that comfortable rotundity that tells of luxurious living and a good digestion" (15).

But good living, constant travel and long years of hard graft at his writing table began to affect his health. His suffered from diabetes, for which there was then no effective treatment. He suffered family tragedy. But nothing of any ill fortune was allowed to appear in his writing.

He died in a diabetic coma at his home in Bedfont on 25 July 1919. The funeral of Nat Gould took place four days later when he was buried in the quiet country churchyard of his beloved Bradbourne (16).


References
(1) The photograph of the family taken in 1908 in the garden of Newhaven is included in The Magic of Sport facing page 236.
(2) The Reverend N.G. Pilkington. Nat Gould wrote of him as "touched with the Magic of Sport from his earliest days" when he was a keen rower and cricketer. "He is a man after my own heart, a clergyman who is not afraid to speak his mind, and is brimful of Christian feeling and toleration" The Magic of Sport pages 240 and 241.
(3) "Hounslow Heath is not far distant, and Staines about three miles away, and so on to Windsor or Virginia Water, Ascot and Reading. Staines is lively in Ascot race week" ; "Hounslow Heath was a favourite resort with highwaymen, and there is an old inn at Hatton which contains a high chimney in which Dick Turpin, the celebrated highwayman, is said to have found a safe hiding-place. Not far from Hatton runs the Bath Road, on which the mail-coaches travelled - On the coach went to Maidenhead and Newbury, where the most improved and up-to-date racecourse has been in existence several years - ". The Magic of Sport pages 236 and 237; 246 and 247.
(4) Mitchell Library, the State Library of New South Wales, Australia: ML DOC 1380 Letter 2 and MLMSS A1726.
(5) Mitchell Library, the State Library of New South Wales, Australia: MLMSS A1726.
(6) Mitchell Library, the State Library of New South Wales, Australia: ML DOC 1380 Letter 1.
(7) Middlesex Chronicle 2 December 1905. The novel concerned was The Selling Plater, first published by Long in that year of 1905.
(8) Courier Mail 19 February 1934.
(9) The Magic of Sport pages 212 to 235. The passages quoted are on pages 217 and 235.
(10) Article in The Book Monthly published in the Middlesex Chronicle on 22 March 1913. The product does not seem to have survived the First World War.
(11) Middlesex Chronicle 7 April 1906. Nat's behaviour was however odd, and he may have been suffering the onset of diabetes. (Suggestion of Stephen Askey.)
(12) The Magic of Sport page 18. Nat Gould would be entirely at home there today. The old houses have been lovingly restored and Pilsbury Grange is once more a place of great beauty.
(13) Australian literature from its beginnings to 1935: a descriptive and bibliographical survey of books by Australian authors in poetry, drama, fiction, criticism, and anthology with subsidiary entries to 1938 Sir John Quick and E. Morris Miller (1940) volume 1 page 444. Quick was assisted by Frederick John Broomfield 1860-1941 who provided a bibliography of Australian literature (Australian Dictionary of Biography.)
(14) Nat Gould's moustache was described as "Bismarckian" by Philip Waller in Writers, Readers and Reputations: Literary life in Britain 1870–1918 on page 833. Bismarck (1815-1898) was "the Iron Chancellor" who oversaw the unification of Germany and served as its first Chancellor from 1867 to 1890.
(15) The Australian Dictionary of Biography volume 9 page 61.
(16) An obituary appeared in The Times on 26 July 1919, followed by a notice on 28 July 1919 wrongly reporting that the funeral was to be at Ashbourne. The obituary in the Middlesex Chronicle on 2 August 1919 reported that Nat Gould was preparing to visit Bradbourne just before his last illness, and that he had busied himself in local welfare groups for the benefit of servicemen. His wife seems not to have attended the funeral, and all the arrangements were made by his eldest son Sidney Nathaniel Gould, who had just returned from military service in India. His other surviving son Frederick William Gould was too ill to attend, being only recently out of army hospital. The surviving daughters were then living in Australia.

---